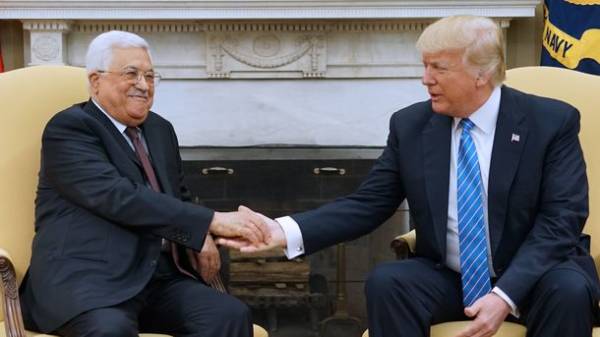 The US President Donald trump has expressed readiness to mediate in negotiations between Israel and Palestine. He said this after talks with Palestinian leader Mahmoud Abbas, reports RBC with reference to CNN.
According to trump, he is ready to become a "mediator, arbitrator or mediator" to help establish peace in the region.
He stressed that to achieve peace, Palestinians and Israelis through direct negotiations. For this, he urged the Palestinian leadership "in one voice to speak out against incitement to violence and hatred." "Now there is hatred, but let's hope it will last not too long," said trump.
In turn, Mahmoud Abbas, reaffirmed the commitment to the model of a two-state solution and independent Palestine. He also stressed that the Palestinian capital must be in East Jerusalem. He thanked trump for his willingness to mediation. "You have a strong intention and you have the desire to see how all these plans will succeed," said Abbas.
As previously reported, Chairman of the political Bureau of the Palestinian movement Hamas Khaled Mashaal said that the President of the United States Donald trump is a "historic opportunity" to find a "just solution" to the problem of the Palestinian people.
Comments
comments