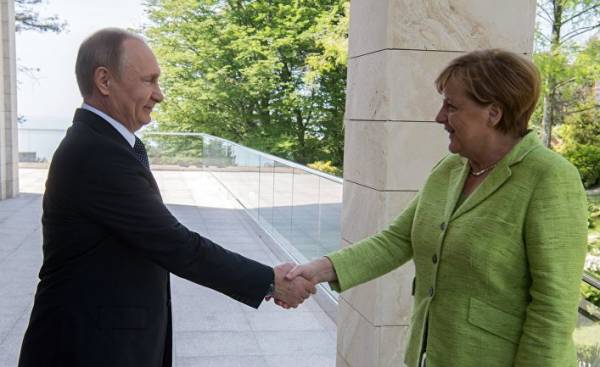 False claims Vladimir Putin was the same, when on Tuesday, he was welcomed in Russia, Angela Merkel, for the first time in two years. About what is happening in Eastern Ukraine, stating that the regions split there — all is the fault solely of the Ukrainians. Russia, they say, helps only there for humanitarian aid. No word about Russian soldiers, Russian weapons or about the separatists, which is welcome in Moscow.
All this is familiar. However, the international environment in which Merkel and Putin met in Sochi, was radically different than even two years ago. Not in favor of the Chancellor: the British leave the EU, France is engaged in itself, Hungary and Poland actively flirting with authoritarianism, and Turkey's Erdogan creates his desired political system, despite the warnings of the Europeans. Two years ago, Putin's Russia was unpredictable great power, and today, America is the trump even more unpredictable. Relationships trump Putin fluctuate between the claimed reconciliation and open hostility.
And the Chancellor? In Sochi it was possible to observe, as she bravely and calmly reacted to the political madness from all sides.
Putin is not an opportunist. It accurately calculates risk, which is
A quarter of an hour after the press conference, Merkel and Putin, the Russian state television reported that Merkel expressed hope that the lifting of sanctions, which the EU in 2014 imposed against Russia. This post was imbued with a certain urgency: it is obvious that the sanctions have affected the Russian economy and the Russian politicians.
However, there is growing pressure on the Chancellor. This year, Merkel will be elections to the Bundestag, not only left opposition but Horst Seehofer (Horst Seehofer) require the lifting of sanctions. This applies to economic lobbyists, and some European countries, the peasants who suffer from retaliatory measures of Moscow. Even Donald trump, it seemed, was not initially rejected the idea to forget about Ukraine for the fight against ISIS ( an organization banned in Russia — approx. transl.) and coordinated action in Syria, he remained silent about Crimea and shows no interest in Eastern Ukraine. That was the deal.
And so it would be tempting to act now in this direction…
However, sanctions remain the decisive diplomatic means of pressure, since the Europeans, for obvious reasons, ruled out military options.
In Eastern Ukraine still shoot. The Minsk agreement, the adoption of which was attended by Merkel, is now in its third year, but still fails any one item. People still die, only recently on the territory controlled by the separatists, was killed one employee of the OSCE — presumably as a result of the explosion of anti-personnel mines.
Why not give then? Because we are talking not only about Ukraine. If in recent years things have become clear, it is this: Putin is an unscrupulous strongman, but he is not an adventurer. It accurately calculates risk, which is. If he feels uncertain if he feels the give, then it creates the facts. If the price is too high, he weighs it and sometimes retreats. Therefore, it would be terrible news, if the sanctions are cancelled, without receiving any designed contract concessions.
When Merkel was in 2015 for the last time in Russia was celebrated the 70th anniversary of the end of world war II. Then Merkel was cautious enough to Express his respect — after all, that defeated Hitler, it was ultimately also a credit to the Soviet Union. And yet she rightly refused to participate in the military parade for Putin, because the war in Eastern Ukraine being Russian tanks.
In Sochi, Merkel now openly declared that in a conversation with difficult partners have to constantly repeat the same thing. However, where they say that less than shoot. Therefore, Merkel smiled warmly and once again listed that is unacceptable.
This method Merkel is in Germany a dubious reputation: too painful, too slow. It offers a political tranquilizer, accused her as a philosopher Jurgen Habermas (Jürgen Habermas) and maybe he is right in regard to domestic policy. And foreign policy needs it: self-control, strong nerves, clear principles.
Comments
comments