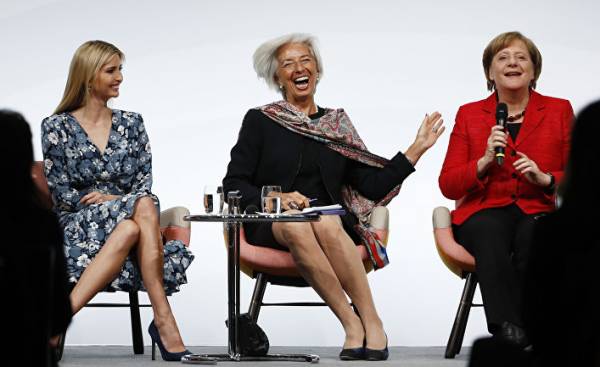 If the meeting Ivanka trump Angela Merkel and reminiscent of something, so a single scene the summer of 1989. In Prague tavern "Klamovka" someone hung on a wall photograph of Karel Gott holds the hand of the Mail Pause, the frontman for the village People. Over the someone attributed: meeting "Soyuz" — "Apollo". Exactly the same impression of incompatible opposites was made by the meeting of the German Chancellor and the daughter and the adviser of the President trump the most influential women in the EU and the White house. They are the stars of the meeting, W20, a kind of forerunner of the summit Big twenty, which in July will be held in Hamburg. Can be helpful such meeting?
Frankly — Yes. Although we do not know on what agreement in Berlin ladies, including the head of the International monetary Fund Lagarde and Minister of foreign Affairs of Canada Freeland. The goal of "enhancing the economic position of women as the main objectives of all thematic programmes of the G20". Sounds like clerical stuff in the spirit of ptydepe Havel. But the German press focused on Merkel and trump. "Two women who have to urge Donald trump to sound policy, as it is possible," writes Spiegel Online.
We have yet to discover what this faith in the influence on the trump lead in practice, however, the Berlin meeting can bring some benefits. For example, it may confirm a pattern: the more politics, the economy and public life will involve women, the weaker is the argument that they all have only one salvation, and the brighter will stand out individual differences between them. Do Scottish separatism, led by Nicola Sturgeon, fundamentally better than Catalan separatism under the leadership of Artur Mas? Ivanka trump sets an example that, despite ideological differences, with Angela Merkel, it is possible to say Hello. Just like 28 years ago did Karel Gott and Mail Hlavsa.
Comments
comments