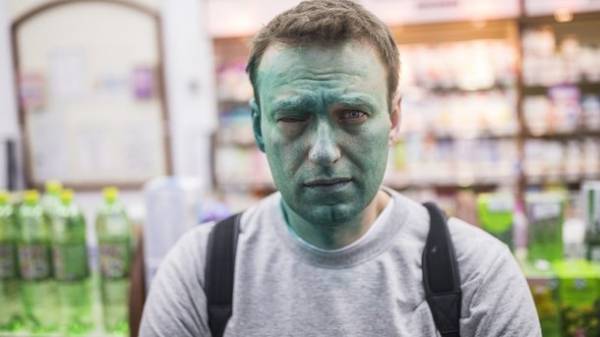 Navalny said about the serious eye damage he suffered during the attack, reported on his page in Facebook. "Chemical burn of the right eye moderate. The doctor is still sure that it couldn't be just green. There is clearly a mixture of green stuff on the other pungent liquid. At the moment, eyes lost 80% of vision. While this is not irreversible. I actively treat and it is hoped that you will be cured. I would now, of course, would help much, check out one of the specialized clinics in Switzerland or Spain, but as you know, dear government forbids me from leaving the country for five years and the passport does not" – said the politician.
He stressed that the ECHR lays his complaint on this score, which he hopes to win. Navalny also said that the police does not conduct investigations regarding the attack.
"Briefly: it was not conducted. That is, it is actively developed by volunteers on the Internet that have identified the two assailants (for that, thank you very much). And it is not conducted by the police, the Investigative Committee and all the others who are supposed to do. Today we sent several complaints about the inaction of law enforcement agencies. This omission looks particularly curious in light of the fact that the main direct participant has already been found. Last name everywhere. Journalists on the phone. And only the police know nothing," – said Navalny.
We will remind, on April 27 in Moscow unknown poured green paint the Russian opposition leader Alexei Navalny, who in the attack received a chemical burn of the right eye.
In early March, the Fund of struggle against corruption Alexei Navalny has published an investigation about the luxury real estate the head of the government of the Russian Federation Dmitry Medvedev, which was acquired through corruption. In the investigation said that Medvedev has created a multi-level corruption scheme of receiving bribes from oligarchs.
Service schemes of the Prime Minister of the Russian Federation involved thousands of people, and his property is guarded by state security services.
Prime Minister Dmitry Medvedev during the government's report in the state Duma refused to comment on the film Fund of struggle against corruption.
Comments
comments