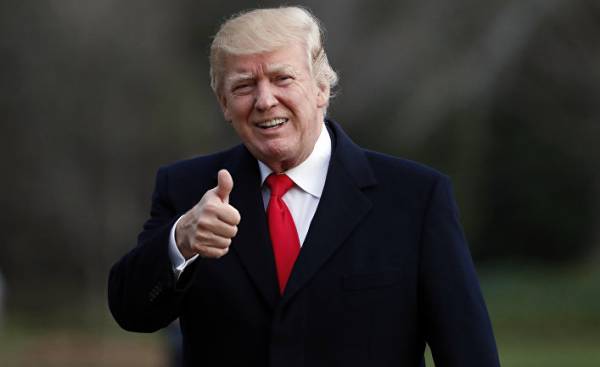 President Donald trump, gave his regular weekly address to the nation, called "first 100 days" of his administration "the most successful in history."
According to the head of the White house, the main achievement was the return of jobs and the opening of new production facilities of automotive companies in the United States.
"Our country is being reborn, and reborn quickly, said Donald trump. Our companies show the best results. Only that they reported excellent profits because of what happened in this short period of time. And this is only the beginning."
The US President mentioned tax reform proposed by his administration, but did not go into details, saying only that "huge tax cuts for the middle class and for business" will provide "an incredible effect".
Sometimes, though, to achieve the result required the personal intervention of the head of the White house. According to trump, his personal participation in negotiations with the developers of the newest fighter F-35 enabled the "save more than 725 million dollars."
The President believes that "in just 14 weeks," his administration has managed to "bring fundamental change to Washington" by changing the relationship between politicians and ordinary voters.
"Politicians take the taxpayers' money and sent jobs and capital abroad, ' said Donald trump. — It will never happen again. From the first day after taking office, I led a very simple idea: I gave the pledge of allegiance only to you, our wonderful citizens."
According to the President of the United States, the concern to protect the interests of ordinary Americans forced him to cancel the agreement on United States participation in the TRANS-Pacific trade partnership, and "to take unprecedented steps" to reduce state regulation in all spheres.
Another priority Donald trump called the "rule of law", Recalling that he had nominated Neil Gorsuch for the vacant post of member of the Supreme court.
"The judge Gorsuch deeply committed to our Constitution, the President said. — My administration became the first in modern political history, which managed to approve the nomination of a new member of the Supreme court in the first 100 days. Last time it happened 136 years ago, in 1881".
Donald trump also stressed that his administration supports law enforcement agencies by helping them in "the fight against the criminal cartels."
All of these initiatives, according to the President, allowed to achieve impressive results.
"Since my inauguration confidence in the economy grew more than 9 years. Optimism among manufacturers has reached record levels. Confidence in the future of small businesses has grown more than in nearly four decades," concluded the President of the United States.
Comments
comments