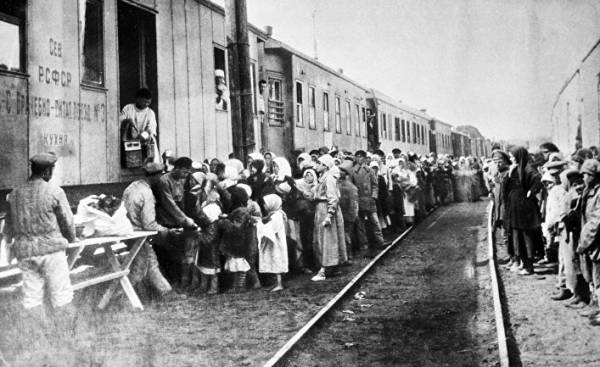 Samara/Stockholm — Molander Louise (Louise Molander), 93, survived all the dramatic events that occurred in Russia in the past century, and constantly dreamed to find her Swedish father and family.
And now the dream has become a reality. Newspaper Expressen found her relatives in Sweden.
"I'm very touched and glad that now, when I have not much left, I learned that I have family in Sweden," she says, and Swedish relatives happy as she is.
In Samara, in the southwest of Russia, a woman lives with a completely Swedish name Louise Molander. She considers herself Swedish. Swedish father disappeared from her life 90 years ago when she was only three years old, and since she wanted to see him and his homeland.
"All my life I dreamed to go to Sweden and find relatives," said Louise Molander Expressen reporters stayed with her in Samara.
"I sort of missed dad. I never found out what happened to him, whether he married again, had more kids," she says.
The life of a 93-year-old woman was held against the backdrop of all the terrible events which happened in the Soviet Union and Russia. She survived the famine and massacres, purges of the dictator Stalin and the reign of terror, the horrors of the Second world war.
Her father, captain Hilding Molander (Hilding Molander), was an employee of the humanitarian mission and came in starving Soviet Union in 1921. He was a member of the mission of the Swedish red cross who saved about 100 thousand human lives.
In Samara he met Margarita Kuskovo Russian nurse of noble birth. They married in 1922, and a year later was born Louise. In 1927, his father left the family and returned to Sweden. And then moved to Poland, where he helped the Resistance movement during the German occupation during the Second world war.
"Sometimes I thought I will go crazy"
Louise's whole life was been carrying this grief be abandoned. She wanted to get in touch with the Swedes, especially when the Swedish Embassy in Moscow during the Second world war she was evacuated to Samara. But when the Stalinist terror of contacts with foreigners could end badly. The death penalty or sent to the camp.
"I have so many times cried and wanted to go and talk with the Swedes, but did not dare. Sometimes I thought I will go crazy from being unable to ask them about my father," says Louise.
A couple of weeks after Expressen met Louise in Samara, we spotted her Swedish family. Three nieces and one nephew, children of her two brothers on the father from his first marriage. Adopted daughter of a father who married for the third time. And relatives of the younger generations of these families.
"Oh, I'm so excited! It's not every day you get a new family. Grandpa never said anything, so cool to find a sister of the Pope!" says niece Louise Birgit Eliasson (Eliasson Birgit), 71, a mother of three, a retired teacher now living in linköping.
Birgit Eliasson, daughter of Hans Molander (Molander Hans) brother of Louise from the father, says she, in the past year participated in two seminars in Stockholm, the Nobel Museum and the Higher school of Economics, which was dedicated to the mission of the red cross in the Soviet Union, which was attended by her grandfather.
"The Nobel Museum were representatives of each of the families whose members took part in the mission. Princess Cristina was represented by Prince Charles, who led the project in the Soviet Union. I was a grandfather, says Birgit Eliasson. It was very interesting. I was given grandpa's photos. In the Higher school of Economics, the Russian government expressed gratitude for the mission".
Niece Louise, Eva Molander (Eva Molander), 57, a teacher and artist living in Stockholm, also very happy the news of his previously unknown aunt. She explains that the grandfather was very reserved and spoke little about his life.
"I'm touched, I have no words. Happy and very excited, all this causes a lot of feelings," says Eva Melander.
"It's amazing how we lived, not knowing anything about history, which is only now becoming known, but it is important for self-determination. I send warm greetings Louise," she says.
According to Eva Molander, she got a letter that Hilding Molander sent from Russia to his little son BU — father of Eva and luisina brother's father.
"This is an amazing letter, pretty battered and yellowed photographs he sent him home to his son, my dad. It tells about the everyday life of his grandfather, on the construction of the orphanage, about the hardship of the local population about how simple means was conducted of land management, and so on," she says.
Foster daughter of Hilding Molander Hay Ambush Hultgren (Zena Zasada-Hultgren), 71, a dentist in Stogolma, is also affected. Like all members of the family, she said that it is very little about his past.
"Incredibly exciting and interesting to hear about Louise. Her father, Hilding, was a good stepfather — a nice and friendly person," she says.
The Russian part of the family, living in Samara, too. After a long and hard life, during which she suffered and due to its foreign origin, Louise finally found a big family in Sweden. She says she's too old to go there and meet them, but hopes that her newfound relatives will come and visit it yourself.
"Thank you for what you told me. I'm very touched, unspeakably moved. I'm so happy to know that I have family in Sweden, especially because I don't have a lot of relatives in Russia," she says, when we all told her.
Her grandson Vissarion Kantaria was also pleased to meet with the Swedish branch of the family. He says his two children are studying in Saint-Petersburg and can easily go to Sweden.
"We are very pleased and happy to meet our relatives in Sweden. And we will be very glad if they will arrive to Samara. We send them greetings from all my heart, Vissarion says Kantaria. To my son George 21, and daughter Anna — 17, they study in St. Petersburg. He is studying medicine, and she wants to become a diplomat. They are happy to go to Stockholm and will be happy to meet with relatives."
Teased, banned, dismissed
Louise Molander and now lives in his hometown of Samara, in a small apartment in one of the new areas of the city. The house is full of photographs and medals. Above the bed hangs a Orthodox icon, Louise was deeply religious.
"I'm glad my dad was Swedish, and I'm also Swedish. And I, of course, grateful to the Swedish Red Cross who saved so many lives here".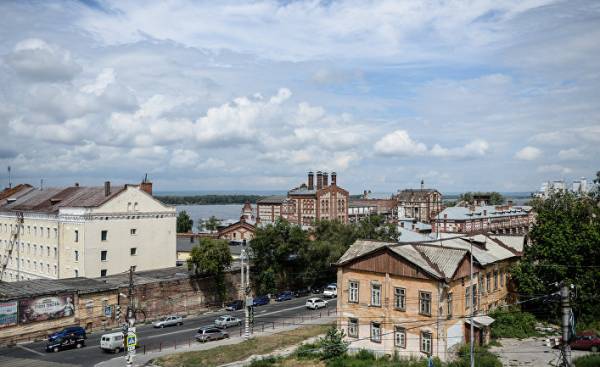 © RIA Novosti, Konstantin Chalabov | go to photosangelina and buildings of Samara in the Volzhsky district of the Avenue
She talks about her hard life with all its sorrows and failures. She has never concealed its Swedish name, although it was a heavy cross. Because the more closed it became the Soviet Union, the more suspicious attitude towards foreigners and the harder life became Louise.
She was teased at school, she was forbidden to join Soviet youth organizations that were important part of society. Once a new head drew attention to her foreign name, and she was fired.
She married and had two daughters, the younger died at the age of four years. Louise later decades he worked at an aircraft factory, the local administration and the Samara Museum. She received several Soviet medals for work and retired at the age of 78 years.
Sometimes she tried to communicate with the Swedes. In the midst of the Stalin era it was dangerous to come into evacuated to Samara Swedish Embassy. But many years later, after the collapse of the Soviet Union, in 1997, she went to the Swedish Embassy in Moscow. With him she had all the documents about the Pope and his photographs.
She told me that she just wanted to talk with someone at the Embassy to try to find my Swedish family, but she rudely refused.
"They even were not allowed inside. Then I cried for a long time," says Louise Molander.
Exhibition on the activities of Swedish humanitarian mission during a disaster
Right now her father Hilding Molander and rescue mission with the Swedes at the head of honored with an exhibition in Samara.
Famine in the Soviet Union in 1921-1923, which killed five million people, among the worst disasters of its kind in modern history. Under the leadership of Prince Carl of the Swedish Red Cross organized a large humanitarian mission in greatly affected the Volga region.
"Without foreign aid we would all be dead. The Russian nation could disappear," says historian Gregory Tsigankov, the results of research which can now be seen at the exhibition in Samara dedicated to the Swedish mission.
He searched for photos and documents. The exhibition hung photos from mountains of corpses and children with swollen bellies.
When the food ran out, people began to eat animals, and then the grass, from which they have grotesquely swollen bellies. But perhaps the most gruesome is cannibalism. Human flesh was sold as food, and starvation was committed hundreds of murders.
"When I read about it, it was all just bare figures. But when you look at the photo, realize that it's about real people, real children", — says Dmitry Khramov, the organizer of the exhibition, held under the auspices of the Embassy of Sweden in Russia.
According to historians, the famine began from a combination of war, drought and poor communications, but also due to the fact that the new Communist leaders confiscated meal and corn to the needs of the red army. In the official interpretation of the history of modern Russia, laying the blame on foreigners and anti-Communist "whites" who participated in the civil war. Still this is a very touchy subject, and Samara Museum for three weeks before the opening announced that it cannot accept the "technical reasons". Instead, it takes place in a private gallery.
Last year, Russia officially expressed its gratitude to Sweden for its humanitarian contribution. According to Gregory Cigankova, on the Volga river is planned to erect a monument to Prince Charles, who led the mission.
In Samara went about 40 people, among them the father of Louise.
But the captain Hilding Molander (1885-1975) participated in a humanitarian mission in famine-stricken Russia. Being a Swedish businessman in Poland, he during the Second world war helped the Polish Resistance movement, which fought against the occupation of Nazi Germany.
Together with other Swedish in Poland he served as a courier between the Resistance movement and the Polish government in exile, which was in London. The Swedes were free to cross the border. They were secretly carrying money and information. For example, they delivered the first detailed data about the Holocaust — the mass murder of Jews by the Germans in Poland.
Now in many books describes the activities of the Warsaw Swedes. The Hilding Molander was the code name "Gunnar" and he was "a good conspirator", according to the Polish-Swedish historian Jozef Lewandowski (Jozef Lewandowski), presented in the book "the key point — Stockholm". The writer cites contemporaries, who say that Salander was "adamant in his opinion about Nazism".
"The Swedes were a lifeline for the Polish Resistance at least within a year after the German invasion in 1939. They were the most important couriers," says military historian Lars, Ullenhall (Lars Gyllenhaal).
Hilding Molander married a Polish girl Galina. It was his third marriage. Together with a small daughter they moved in 1950 in Stockholm. By his first wife, Swede Greta, he had a daughter and two sons.
A second marriage, to Russian Margarita, June 18, 1923, brought him a daughter Louise.
Comments
comments