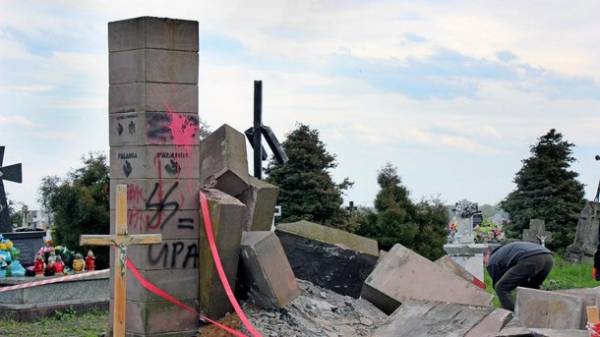 The Ministry of culture of Poland said that the dismantling of the Ukrainian monument to UPA soldiers in the village Krusovice near Przemysl were legitimate. It is reported Onet.pl with reference to the Ministry, reports "Ukrainian truth".
The Ministry argued that the monument was illegal.
"Dismantling illegally built monument the monument took place in accordance with the current legislation", – stated in the Ministry of culture, noting that "some representatives of the Ukrainian side may be difficult to accept this fact, especially on the eve of the 70th anniversary of the action "Vistula".
The Ministry added that the monument "to the heroes of the UPA. Glory to fighters for freedom of Ukraine" was illegally built in 1994, "in violation of the law of Poland without obtaining the permission of local authorities".
Also opposed the Council of protection of memory of struggle and martyrdom of Poland, which also the installation of the monument has not been consulted.
"The Ukrainian party – the State interdepartmental Commission on Affairs of perpetuating of memory of victims of war and political repression under the Cabinet of Ministers of Ukraine has repeatedly sent letters about the events with the aim of resolving the legal status of the said monument, which was one of many such illegally installed on the territory of Poland monuments glorifying members of the UPA, which have symbolic meaning not related to the place of burial," – said in the Ministry of culture of Poland.
We will remind, on April 26 in the village of Krusovice in Podkarpackie Voivodeship was dismantled a monument to soldiers of the UPA, which had been desecrated by vandals.
The foreign Ministry of Ukraine has called the dismantling of the monument as a provocation.
Comments
comments