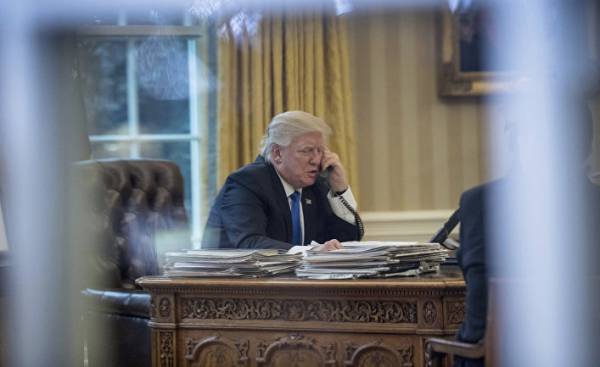 On the eve of the first meeting of German Chancellor Angela Merkel and the President of the United States Donald trump's passions in Berlin and Washington reached an extreme level. Will do business, to everyone's relief, just a polite conversation and a handshake (maybe a bit lengthy)? Or the conversation escalates into an open confrontation — to the horror of diplomats and the joy of the comedians from Saturday Night Live?
Anyway, the subject of the possible conflict has long understood. During his election campaign, trump has repeatedly and harshly criticized Merkel held an open door policy for refugees. However, his chief strategy adviser Stephen Bannon (Stephen K. Bannon) was also tougher than he is. The head of the National Council for trade Peter Navarro (Peter Navarro) recently noted that Germany uses a "greatly underestimated the Euro" to the detriment of both the United States and European countries. The President also criticizes Germany's lack of defense spending. In addition, he called NATO an outdated institution and noted that without the European Union could do. While the Chancellor did not answer all these terrible charges. However, it is worth noting that, inviting the Trump cooperation after his election victory, she added a poison clause — "based on those [shared] values".
In the upcoming Friday meeting between Bush and Merkel, of course, will be something through the looking glass. We are talking about unprecedented for the United States and Germany changing roles. The host of the American President with an unusually grim look on their own country, be sympathetic to authoritarian leaders and hostility to globalization, international organizations and immigration. His guest grew up in East Germany and has long been used to idealize America as the defender of freedom throughout the world. She was awarded the Presidential medal of freedom, and expressed Washington's deep appreciation for what he in 1990 he supported the unification of Germany. For 12 years, held the post of Chancellor, she would not let anything come between her and her commitment to the transatlantic relationship. This has not prevented neither the information that the national security Agency, the US tapped her phone, no unexpected shoulder massage, arranged for her by President George Bush.
Stylistically Merkel and trump are very different from each other. He is emotional and irritable. It is dispassionate and not to succumb to provocations. He leads Twitter. She takes a weekly news video podcasts that few looks. As reported by one of the German Newspapers, in preparation for scheduled for Tuesday's meeting, the Chancellor read the interview that trump gave in 1990, Playboy. If this magazine and interviewed Merkel, nobody knows about it.
However, true leaders are able to rise above personal differences. In fact the value has only one question: how Merkel should respond on the merits to the accusations against her and Germany, the property of trump?
Standard German reaction in detail (and with footnotes) to explain why Germany legally and morally entitled to behave as she behaves. Sometimes these arguments are even true, but in other countries, this is the beginning of a dialogue somehow, not everyone likes. So maybe Merkel makes sense to make a sudden move may be able to knock out of the hands of the opponents weapon. Probably Germany, it's time to acknowledge their weaknesses.
Let's start with the fact that Germany spends on defense only 1.3% of GDP instead of the promised NATO target of 2%, and its armed forces are in desperate need of modernization. Guilty on all counts.
Not to forget the German balance of trade: now the total surplus amounts to a record 253 billion dollars, and the surplus specifically with the United States — $ 70 billion. It's certainly not $ 800 billion output gap mentioned by trump, but too much. Our budget surplus also reached a record level of $ 25 billion. It is clear that our society is aging and our obsession with the accumulation associated with it. But no matter how much attention we paid to this problem, we will still be billions that could be invested in national infrastructure. Or in the European programme for the creation of jobs. Of course, I do not insist on anything…
Further, Merkel is taking with him a group of Directors of German companies to talk about German direct investment (255,5 billion in 2015), about 670 thousands of jobs created by German companies in America, and about the German system of vocational education, through which the level of youth unemployment in the country is only 6.5%. Great! But why not add to this some unexpected gesture of goodwill, responding to complaints of the new administration — and at the same time meets the interests of Europe? For example, it would be possible to make additional efforts in the fight against terrorism or increase our military commitment to the opposition "Islamskogo state" (organization banned in Russia — approx. transl.).
It is likely that German participants in the upcoming Friday meeting will be a serious temptation to begin to explain how ridiculous from a European point of view it sounds bellicose rhetoric the administration of the tramp on cultural wars and economic nationalism, and to prove that Berlin cannot dictate terms nor the European Central Bank nor the governments in Stockholm, or in Athens.
Instead, Merkel would be worth calmly to give his companion, what things do not serve and cannot serve as a bargaining chip. This is the future of NATO and the European Union. This national borders and self-determination of peoples — including the borders of Ukraine and self-determination of the Ukrainian people. This is a representative democracy, political pluralism and protection of minorities. In the end, the West, as stated last week in Moscow surprised the Russian foreign Minister, Sergey Lavrov, the new Minister of foreign Affairs of Germany, Sigmar Gabriel (Sigmar Gabriel), is a community whose boundaries are defined by the values in a greater extent than geography. And Merkel is not the only person in Germany who firmly believes that we continue to share these values with most Americans.
Constance Stelzenmueller — senior researcher of the Brookings institution and a regular contributor to the Washington Post.
Comments
comments