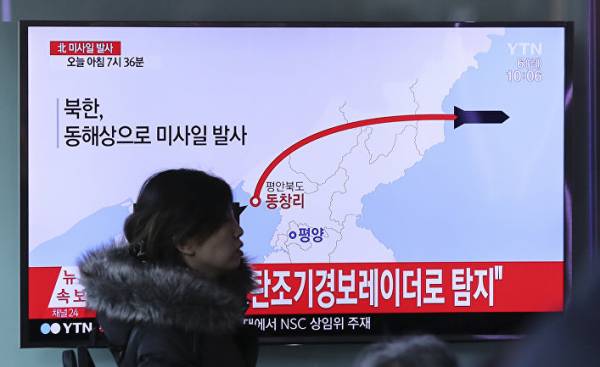 Russia has alerted its anti-aircraft installations in the far East after the launch of ballistic missiles in North Korea. About it RIA Novosti said the Chairman of the Federation Council Committee on defense and security Viktor Ozerov.
"Russia is very closely following what is happening in North Korea. Russian air defense in the far East are in a state of high alert. We control the airspace in the zone of responsibility of the air forces of the Russian Federation", — said Ozerov.
In the night of Saturday, it became known that North Korea conducted an unsuccessful test of a ballistic missile. As reported by the South Korean military, the missile was launched from the landfill in the province's toll, which is bordered by Pyongyang and soon exploded.
Currently, experts are trying to determine the type of missile. This is the third missile tests in the DPRK from the beginning of April. The last North Korean missile test 16 April also ended in failure.
North Korea threatens to conduct weekly tests
Awesome progress on the nuclear program of North Korea
Is it even possible to defeat the DPRK?
Broadcasting company of si-EN-EN, citing an unnamed U.S. official said that the missile landed in the sea of Japan. Agence France Presse also reported, citing the Ministry of defence of the USA that the DPRK fired a missile of unknown type, but the threat she represented. He noted that the missile apparently exploded a few seconds after the start.
In recent months, the situation around North Korea has worsened.
DPRK 16 April launched a ballistic missile also failed, and held a massive military parade.
The US has dispatched a group of warships and submarine.
Pyongyang vehemently responded by threatening to "heavy duty preemptive strike".
The US started installing missile complexes THAAD, whose presence on the Korean Peninsula worried about Russia and China. The system cost $ 1 billion, and pay for it, according to trump, should South Korea.
Reacting to the news of another North Korean missile launch, U.S. President Donald trump has accused Pyongyang of disrespect for his chief ally, Beijing.
"North Korea showed a lack of respect to the wishes of China and its esteemed President XI Jinping, when launched today, albeit unsuccessful, missile. Bad!" commented trump the DPRK's actions on Twitter.
On Friday, speaking in the UN Security Council, us Secretary of state Rex Tillerson said that the US is ready for a diplomatic solution to the nuclear threat from North Korea, however, if necessary Washington uses military force.
In turn, Russian Deputy foreign Minister Gennady Gatilov called the military option is totally unacceptable and has called for talks with the DPRK.
"The threat of escalation of the confrontation in the hot phase were large. Remains it now," said Gatilov. However, he demanded the DPRK to abandon its nuclear program.
Comments
comments