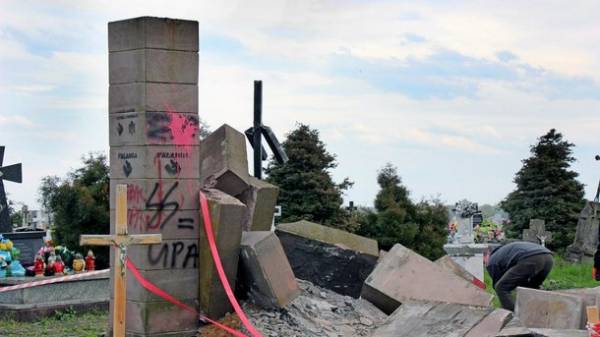 Activists and representatives of the Polish nationalist organizations on April 26 was dismantled in the cemetery of the village near Przemysl Groszowice the tombstones of soldiers of the UPA, which had been desecrated by vandals, reports "UKRINFORM".
The action, which is not interfered with by the police caused the protest of the Association of Ukrainians in Poland (OUP).
"April 26 was another anti-Ukrainian provocation in the Podkarpackie voivodship – analysis of the remnants of the Ukrainian places of memory in the village Rusovici, Stubna. Two years ago, this place of memory was destroyed by unknown vandals, and the current action performed by the "group of activists" in which participated the mayor Stubna and patronage took over the political party "National movement", – stated in the PMO.
Obedinenie emphasizes – the organizers of the provocation do not hide that their purpose is the obstruction of the celebration of the 70th anniversary of the action "Vistula", that is, the deportation of 140 thousand Ukrainians from their native lands of South-East Poland to the North and West.
In the PMO recalled that the impunity and the lack of reaction of the Polish state to the action of "an unknown perpetrator" for 2015-2016 only encourage such provocations.
"Unfortunately, it just happened. Impunity makes bolder. Therefore, those who want to set fire to the Polish-Ukrainian border, each time taking a step forward ", – reads the statement of the PMO.
It notes that it's time to Polish government and its subordinate service law enforcement and security has made firm steps. "My appeal to the Prime Minister Szydlo, she took it as a priority to ensure public order in the country", – said in a statement.
It also calls for Polish public opinion "is not to succumb to anti-Ukrainian provocations" and agree to "grave desecration, incitement to hatred on ethnic grounds, as well as humiliation of persons of other nationalities".
As reported portalprzemyski.pl chief Stubna Janusz Slabicky said that the monument is fixed in the framework of the public initiative, since it "spoiled the aesthetic appearance of the cemetery" was unstable, and therefore dangerous to others.
Recall that for 2014-2016 in the South of Poland destroyed or desecrated more than ten memory locations. In any case, the attackers were not detained.
Comments
comments