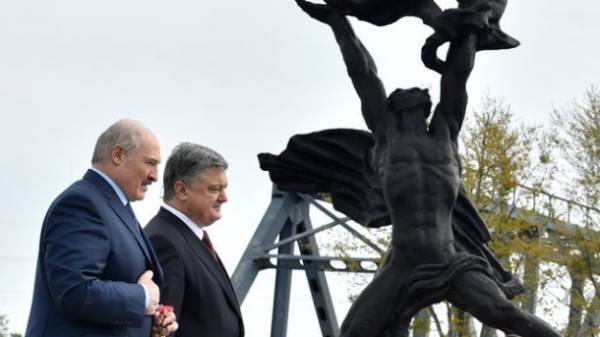 President of Belarus Alexander Lukashenko assured his Ukrainian counterpart Petro Poroshenko that the Belarusians will never agree to a confrontation with the Ukrainians and we need to stop looking at each other warily. He stated this during a joint concert at Chernobyl, reports 112.ua.
According to him, if the Belarusians and "invade" Ukraine, only on the tractor to help plow the land.
"Poroshenko and the entire Ukrainian people aware of our position in this respect: peace, peace and only peace. Ukrainians have never been for Belarusians strangers. Like someone or not like it, but we native people. We have always lived together, especially in this area. Who of us can share? No. Peter, I want you to publicly say you don't even speak on the subject, that Belarusians can do otherwise than you do now. We native people. We can come to you, or to come, as I said, on the tractor, helping you to plow the land, if necessary, what we are doing in the border area. You help us, our farmers help you. We will work only in the name of peace, we have no other purpose. For the third time, we native people", – said Lukashenko.
He also called as soon as possible "to stop the internecine squabble, to stop a showdown with a gun and looking warily at each other." Offered any assistance to Ukraine in the name of peace.
"We will always be faithful to the precepts of our great grandfathers, grandfathers, fathers. Ukrainian land is not unknown to me. Here is very close, between Kiev and Chernihiv, and buried the roots of my ancestors. Therefore, we will do everything in order to have peace and a decent relationship. We follow the course of friendship and mutual cooperation," the Belarusian leader added.
Also during his stay in the Chernobyl zone Lukashenko suggested Poroshenko to help in the creation of radioecological biosphere reserve in Chernobyl.
Comments
comments