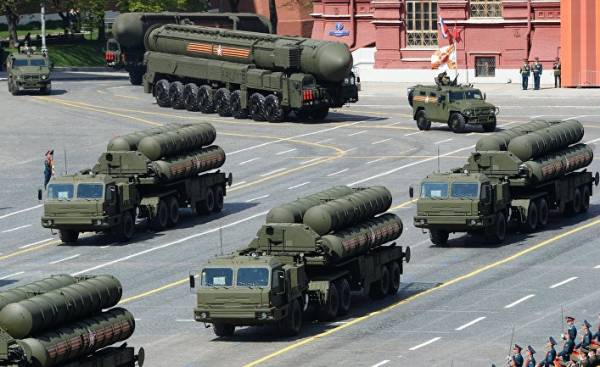 Until now, Saudi Arabia was considered one of the world's largest buyers of weapons. Since 2002, military spending grew steadily. But now it is in the past.
According to the Stockholm Institute for peace studies (Sipri), last year military expenses of the Kingdom fell by 30%. It will also affect the global priorities in this area. Still the list is headed by the US and China, but in third place now is Russia. Saudi Arabia slipped to fourth place.
Total world military spending in 2016, slightly increased by 0.4%, or $ 1686 billion. While 611 billion dollars (plus 1.7 percent) accounted for the United States.
The annual Sipri study indicates several trends. After five years with a shrinking military expenditure the American military budget in 2016 for the first time. In Europe, growth was recorded for the second consecutive year, by 2.6%. First of all, Italy has significantly increased its expenditure on arms.
To record amounts in military spending, the world is far. According to Sipri, in 2011, they were generally higher than now at a record level in 1699 billion. And yet these figures only approximately reflect the real world costs. Thus, the budgets of some States, such as Syria, North Korea, Qatar, the United Arab Emirates or Lebanon could not be granted because there were no reliable data. As for China, its military expenditures had to be assessed.
Oil-producing countries limit spending
The fact that military spending in 2016 is only slightly increased, should first be attributed to the sharp reduction of military budgets of oil producing countries. Only two of the 15 countries with the largest reductions in military spending were not oil exporters, according to Sipri. For example, their military spending was reduced as Iraq or Venezuela.
The dominant position of America in the field of military budgets clarify some of the figures. In 2016 the United States with 611 billion dollars had exactly 36% of all global military spending. China is in second place with estimated military budget of 215 billion dollars looks much more modest, and Russia in third place is only 69,2 billion dollars, while its military expenditure in 2016 rose 5.9%. Compared to 2007 military spending Moscow grew by an impressive 87%. In the fourth place of the world list in 2016 is Saudi Arabia from 63.7 billion dollars, followed by India.
Only four countries-NATO member meets the requirement to allocate two percent of GDP on defense

Experts Sipri have also carefully studied repeatedly expressed by the President of the United States Donald trump the requirement that Europeans increase their military spending. We are talking about the agreement of 28 countries-members of NATO, in which two percent of GDP should go to military spending. Currently, only four countries-NATO member fulfil this requirement, namely the United States with 3.3%, Greece, France and Estonia.
Institute Sipri held an amazing calculation: if all countries-NATO members stick to the rules "two percent", then mathematically the costs of NATO even fell to 159 billion or 18%. It's very simply explained. If the US reduced its military spending from the current 3.3% to 2% of GDP, they would reduce their defense budget by 39% or $ 240 billion. In response, the European member countries of NATO would have to increase their military spending by a quarter, to $ 66 billion.
Germany, with 28 billion dollars does not fulfill the condition of NATO
First of all, Germany is lagging behind in fulfilling the objectives of NATO. Mathematically, the defence budget should be increased from 41.1 to $ 69 billion. Then theoretically, Germany could move from ninth place to fourth in the world list of military spending. To significantly increase the military budget would have and Canada, namely to double the budget from 15 to 31 billion dollars. Or Spain, which had to increase its defence budget from 15 to 25 billion dollars.
However, the Sipri experts admit that it is a theoretical model. In reality, the US will remain at current levels and will not reduce its military expenditures. Then get spending growth even in General. Only one budget of the countries-members of NATO will reach 962 billion dollars — yet 57% of all global arms spending.
Comments
comments