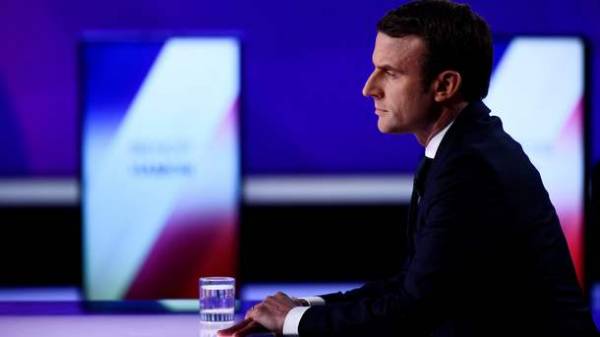 Sunday, April 23, France passed the first round of the presidential election. According to the official results, the second round was held Emmanuel macron, who openly supports Ukraine (23.75% of the votes) and the Pro-Russian candidate marine Le Pen (21,53%).
Third place went to the Republican candidate, françois Fillon, who, having been eliminated from the presidential race, called for a second round of elections to vote for the Macron.
After the official results were politicians, experts, analysts and bloggers have been actively discussed in social networks the choice of the French and their consequences.
It seems to me that even Bridget would benefit from marine Le Pen. Let the Kremlin to the second round though pricegreat his companions. pic.twitter.com/JSdOBbyZam
— Mark Feygin (@mark___feygin) 23 APR 2017
https://t.co/QQNsMHii76 pic.twitter.com/pM3Rd3rh8T
— Sergey Elkin (@Sergey_Elkin) 24 APR 2017
Divided France, Putain troops, save zapadentsev!
(in fact, this regional vote is usually everywhere) pic.twitter.com/AfaawxSUE7
— Mars (@Mars_FM13) 24 APR 2017
Russia, which always in the way "Ukrainian nationalists" who openly supports Le Pen is a nationalist and the daughter of a famous neo-Nazi.#Vitalogic
— Poweska Ukraine (@i_army_org) 24 APR 2017
the leader of the right group national front, Le Pen told us the program "Time" pic.twitter.com/CkxunqcusT
— enemies over the hill (@Lndcalling) 24 APR 2017
The logic of his jacket: candidate-nationalist in Belarus and Ukraine is bad and fascism
But far-right nationalists in Europe is good
— RB of a brain (@belamova) on April 24, 2017
And then relaxed the supporters of Macron stay at home, and motivated supporters of Le Pen pulled 80-year-old grandmother to vote.
— VP (@sranysovok) 24 APR 2017
The Russians suffer mostly for Le Pen.
We can understand them.
Not because I wish evil to the French.
Just frustrating when someone is living better than you.
— Aunt rose (@ANAKOYHER) 23 APR 2017
The Russians remained the last hope – Marie Le Pen pic.twitter.com/vJYbbRTJp9
— Donald trump (@DonaldJTrump71) 23 APR 2017
Marie Le Pen hasn't won yet, but already celebrating. pic.twitter.com/neHt31BSWQ
— The Prosecutor of the Crimea (@ProkyrorCrimea) 23 APR 2017
In vain you so opposed to Le Pen. I would love to see how else she is, like Trump throw the Kremlin.
— pani Walewska (@pani_walewska) 24 APR 2017
According to RTBF TV channel, the majority of the French voters voted for Rules. Behind him with a lead of 6% is marine Le Pen. pic.twitter.com/6hHrqm42Va
— disintegration and disrespect (@VictorKvert2008) 23 APR 2017
In Russia, as usual, is a leader Le Pen. Well, what in France, leaders in the macron: pic.twitter.com/ktFK51C26a
— Foreign Rossi (@Fake_MIDRF) 24 APR 2017
Recall that the second round of presidential elections in France will take place on 7 may.
Comments
comments