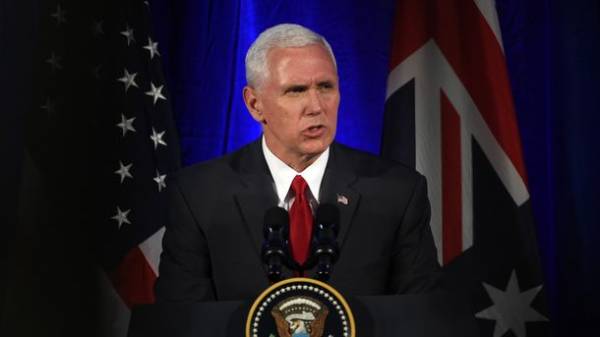 The United States believes that the cessation of the nuclear program of North Korea can be achieved peacefully, with the cooperation of Washington and China.
The Vice-President of the United States Mike Pence said at a press conference in Sydney, reports Reuters.
"We sincerely believe that our allies in the region and China is putting pressure that there is a chance that we can achieve the historic goal of a nuclear-free Korean Peninsula in a peaceful manner," said Pence.
He added that denuclearization of North Korea can be achieved peacefully thanks to a new agreement between the US and China. While details of the agreement between the two countries in this message are not given.
Pence also added that the US is encouraged by steps already taken China.
Earlier it was reported that the United States sent to the Korean Peninsula, a group of military ships, and also held meetings with China's leadership, with the aim of exerting pressure on the government of North Korea to this country was from the development and use of nuclear weapons.
Earlier, U.S. President Donald trump said that he expects China's influence in the solution of this problem, because North Korea is economically dependent on China.
Today, the media was published satellite images showing that North Korea began preparations for another nuclear test.
April 10, CNN reported that U.S. Secretary of state Rex Tillerson announced the achievement of the United States and China agreement on the necessity of ending the DPRK's nuclear programme. He also added that the Chinese government understands that the situation continues to worsen and reached a certain level of threat.
Tensions between countries have risen sharply in recent months after Pyongyang last year conducted two nuclear tests and continues to test ballistic missiles in violation of resolutions and sanctions by the United Nations.
Comments
comments