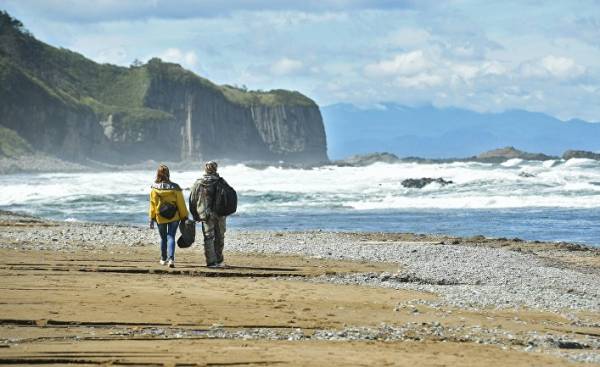 The "Northern territories" again, strange things happen.
Sakhalin oblast announced the project of construction of residential houses on the island of Iturup, Kunashir and Shikotan. Already obtained the relevant land. Construction will begin in may-June of this year. It is planned to build about 600 homes. Purchasing power will be enhanced by providing interest-free loans. The actual control of Russia over the Islands gradually increases. Obviously, fewer prospects for the development of territorial negotiations, which were stalled.
Speaking in Sapporo at the end of last week, the economy Minister of Japan, Hiroshige Seko (Seko Hiroshige), also responsible for economic cooperation with Russia, said: "the four Northern Islands there is no infrastructure. No goods or people."
It is unlikely, Prime Minister of Japan Shinzo Abe was annoyed by these words, but it will not be easy during the upcoming visit to Moscow, to be held April 27. What are the intentions of President Putin? Only recently began talks on joint economic activities, presented by Prime Minister Abe to Putin, who came to Japan at the end of last year. Maybe the Russian leader again skillfully undermines Tokyo to get him to give us more help?
Professor Zukovskogo University of Itsuro Nakamura (Nakamura Itsuro) says the following: "New housing rather designed not to attract migrants from the mainland, and for those who are on the Islands with the aim of earning. The "Northern territories" there is a serious lack of housing. In the summer there are going to be representatives of the fishing industry of China, South Korea and the DPRK, but they have to live right on the ship. It is the implementation of the Federal programme for the development of this region, therefore, the Islands are also the workers who build airports, roads and so on. New homes should take these workers that will accelerate the process of infrastructure provision. It is reported that a prerequisite for joint economic activities is the return of territories, but President Putin a different opinion. It strengthens the actual control".
Russia has deployed on Iturup and Kunashir military units 3,500. In addition, the construction of new military bases.
"Management structure "Northern territories" is very confusing. Sovereignty belongs to Russia, but the economy is driven by Chinese capital. The development of infrastructure on the Japanese money is not the most attractive for Russia and China: business conditions improve. Therefore, the "Northern territories" — it is a very difficult problem. China doesn't want Russia returned to the island, as he will take advantage of all the benefits. If the territorial negotiations will start to develop, China will put a spoke in the wheel. I do not doubt it" (Itsuro Nakamura).
Comments
comments