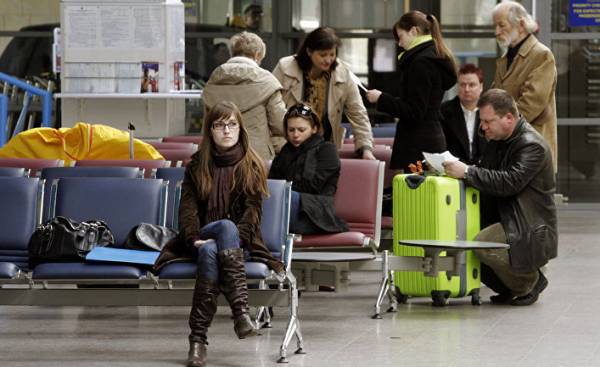 If Lithuania will not change anything, the prospect that awaits in the coming decades, is not happy: reducing the number of working-age population and children, a growing number of retirees, but that's not all. No money to increase pensions, expensive infrastructure maintenance.
There are several reasons for the reduction in the number of residents, but the trend in fact is not changing — the number of inhabitants is still declining. Here it looked like the map of Lithuania given the number of people of pension age per thousand people.
Most retirees were in districts in the following regions: Ignalina (313,9), Anyksciai (301,9), Zarasai (284,3), arenskogo (282,1), Biržai (The 281.1), Ukmergė (279), Maleckova (277,8) and Lazdijai (276,2). The youngest County — Narinsky (162,7), Vilnius district (177,1), Klaipeda district (179,9), Kaunas district (185,2) and Vilnius (190.7 th). They retired every third and every fifth.
Except for pensioners, the working population should include children, the disabled and the unemployed. According to estimates Simina, at the beginning of 2016 in Lithuania was 594 400 recipients of old-age pensions, 201 thousand 600 people with disabilities and 152 thousand unemployed. That's almost a million inhabitants. What awaits Lithuania in the coming decades if nothing will change and the number of the working population will not increase?
"If you look at what awaits Lithuania in 20 years, it just will come across problems. First, "hang" the entire infrastructure in the areas due to the lack of residents", — said financial analyst Rimantas Rudzkis. He explained that this refers to, for example, šiauliai Central water system designed to service 150 thousand inhabitants, if they will be 50 thousand, the water will rise, the same goes for heating system.
"We have all done reasonably with the development of cities, and now everything has changed. So either need to re-equip system, i.e., around each apartment building to drill wells and to arrange a boiler or something to support the Central system in the event of stabilization in the number of residents, but so far this does not smell — the number of inhabitants is decreasing," said Rudzkis.
Another problem — where to take money for future retirees, especially if they become more, and less of the working population? "State pensions are dependent on the economy. First, the number of working people, as their contributions are the primary source of payment of pensions. But there may be other taxes, e.g. business," said economist Professor Romas Lazutka. According to him, the more taxpayers, the better off pensioners.
Rudzkis offers a solution for town councils, in which many pensioners: "I see the opportunity to take, for example, in Ignalina for permanent residence, say, elderly people from Western Europe, to provide them with care services and other similar services. We have a small population density, the country is beautiful, there is nature, here now pretty cheap, so you can think about the export of medical services."
He added that Lithuania can boast of a pretty good system of medical services and the West apply remote medical services, for example, when the required samples, e.g. blood, can be rented in the house of custody and submit a major research center. "It would be very advantageous if in Lithuania there lived the pensioner from Germany: he would receive the money there and spend it here, in Lithuania would grow the amount of funds that would increase consumption, it would be easier to maintain the infrastructure," said Rudzkis.
According to him, Lithuania could settle the retired not only from the EU. "Inevitably we will have to let people from other countries, as we have in the structure of inhabitants, first, there will be a lot of elderly people, secondly the areas are empty and the infrastructure will suffer for this", — told the economist.
According to him, it is necessary to consider a more flexible procedure for issuing residence permits in Lithuania for foreigners. "All proposals should be discussed, it is important not to step over the line that foreigners have not rushed EN masse, and would not make life unpleasant for local residents. A certain number of people to let in, provided that they can be expelled from the country if they don't follow the laws, etc.
It is also important that newcomers were from the family cultural traditions of the countries, say, Ukrainians, Belarusians, they have a similar mentality, they will not create problems," — said Rozakis. "The areas really are empty, and to do something necessary now. I recently traveled to Ignalina, my heart sank — such a beautiful town, nature, everything is there, and the inhabitants is two times less than 20-30 years ago, it is better to let the Ukrainians live there, it will all fall apart. There will remain local and how they live? Who of them will care?", he asked a rhetorical question.
Comments
comments