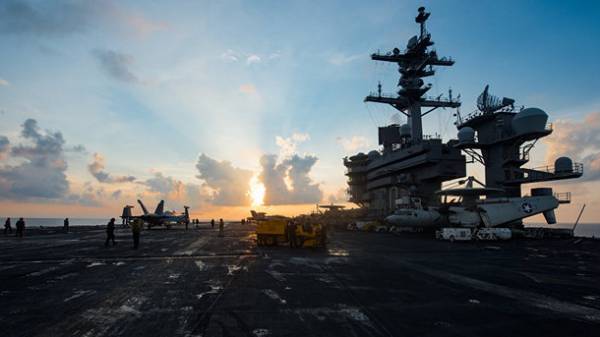 Carrier strike group the U.S. Navy led by the nuclear aircraft carrier "Carl Vinson" has come to the Korean Peninsula in anticipation of a possible new nuclear tests in North Korea or launch ballistic missiles.
According to us private intelligence and analysis company "Stratfor", the carrier group is currently to the West of the Japanese island of Kyushu and goes through the Korean Strait into the sea of Japan to the East coast of the DPRK.
There, according to Japanese media, referring to sources in the defense Forces of the country, will join them Japanese warships.
The composition of the carrier battle group the U.S. Navy in addition to the aircraft carrier "Carl Vinson" includes the missile cruiser "lake Champlain canal" and two destroyers – "Michael Murphy" and "Wayne Meyer". In addition, the group will be escorted by nuclear-powered submarines equipped with cruise missiles "Tomahawk".
Earlier media reported, citing intelligence reports that the USA is ready to launch a preemptive strike on the DPRKif they noticed signs of preparations for nuclear testing.
Comments
comments