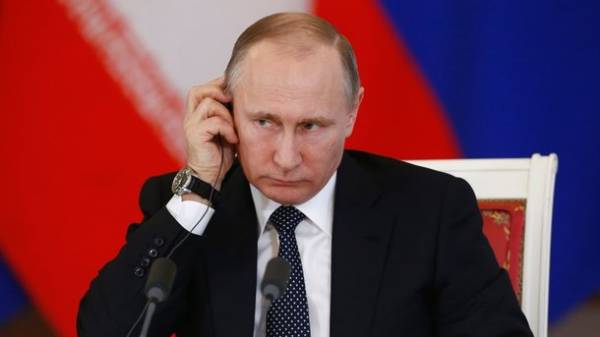 The Kremlin skilfully plays "delay". And U.S. Secretary of state Rex Tillerson well felt it myself during a visit to Russia on Wednesday. This was reported in Der Spiegel, reports ZN.ua.
Vladimir Putin there is always time to time to meet with the foreign Minister of Germany Sigmar Gabriel or the Prime Minister of Bavaria Horst Seehofer. But whether he will meet with U.S. Secretary of state was not known until the last moment. Press Secretary of the President of Russia Dmitry Peskov spoke only of a "high probability" of a conversation. In the end, the Russian President found two hours for the chief diplomat of the United States.
Even before his arrival in Russia, Tillerson angered Moscow, accusing it of "incompetence" or a serious attitude to its role in Syria, as it has allowed the Assad regime to organize a chemical attack. Also U.S. Secretary of state said that the Kremlin will have to decide whose side he's on: the US and its partners or Assad, Iran and Hezbollah. But before Tillerson stepped on Russian soil, the Kremlin announced that it would not listen to any ultimatums.
"I think that all have long understood that the us ultimatum to go is pointless and counterproductive," – said the Russian foreign Ministry, and immediately after that announced the meeting with the Minister of foreign Affairs Series on Thursday.
On Friday in a trilateral format, the Russian side has scheduled a meeting with the foreign Minister of Iran. Putin is also not silent and gave an interview before the arrival Tillerson. He said that the level of trust between the US and Russia with the coming to power of team Donald trump has not improved, and even "degraded", especially at the military level. "It all sounded as if Putin has already missed the hated ex-President Barack Obama," the article says.
We will remind, during an official visit to Moscow on April 12, US Secretary of state Rex Tillerson met with Russian President Vladimir Putin and Russian foreign Minister Sergei Lavrov. They discussed bilateral relations and international issues. In particular, Tillerson said that the US insists on the removal from power of Syrian President Bashar al-Assad, as well as on the denuclearization of North Korea.
The parties agreed to coordinate action against ISIL in Syria, as well as to intensify consultations on settlement of the conflict in Ukraine based on the Minsk agreements. At the same time, Tillerson was not raised in the Kremlin the issue of changing the regime of sanctions against Russia for aggression against Ukraine.
Comments
comments