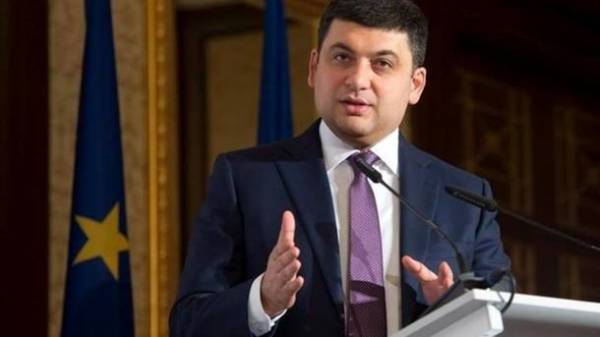 General level of responsibility of the current Cabinet of Ministers of Ukraine is 27.2%: 86 promises, Ministers have failed, 150 made, and 315 are in the process of implementation. This reports the analytical portal "Word and Business".
While personally Prime Minister Vladimir Groisman for the year at the head of the government has performed a little less than a third of the promises of 29.4%. It is as follows:
6 obligations not fulfilled;
28 – performed;
61 the promise is in the process of implementation.
The main commitments of the government that its members failed to perform, include:
Groisman promise about doubling the minimum wage and subsidies for low-income people;
the promise of the Minister of justice Pavel Petrenko on the introduction of electronic Declaration;
the promise of Finance Minister Alexander danyluk on the financing of the sector national security and defense at the level not less than 5% of GDP;
the promise of the Minister of defense Stepan Poltorak to change the approach to providing power to the APU.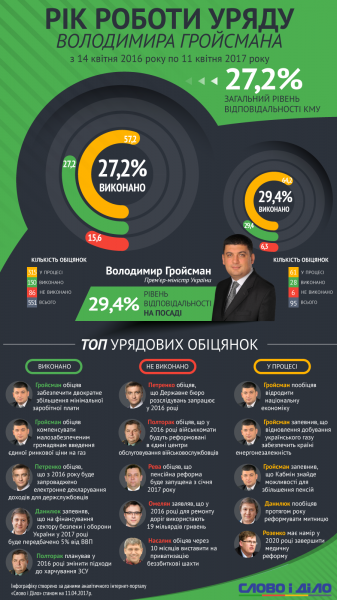 Major failures that were made during the year of work in the Cabinet, analytical portal related:
Petrenko intention to run in 2016, the State Bureau of investigation
the promise of Poltorak to turn the military into a single service centers servicemen
the project of the head of the Ministry Andrey Reva to launch January 2017 pension reform
the intention of the Minister of infrastructure Volodymyr Omelyan for the development of 19 billion UAH for the repair of roads in 2016
plan energy Minister Igor Nasalik to put on the privatization of profitable mines.
Comments
comments