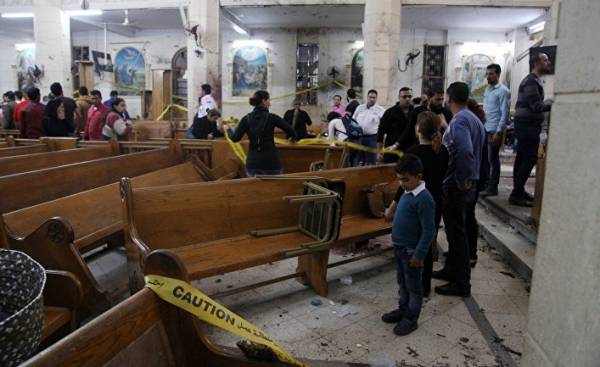 At least 44 people were killed and more 100 injured in the blasts in the churches of Coptic Christians in the celebration of the Lord's Entrance into Jerusalem (palm Sunday), gave rise to fear and anger among Christians and prompting authorities for three months in the country to introduce a state of emergency.
Responsibility for the attack, carried out a week before the Coptic Easter, took ultracapacity "Islamic state" (organization banned in Russia — approx. ed.). In April Egypt was going to visit the Pope.
The attack was another link in the chain of acts of violence by Islamic militants against religious minorities and calling Egyptian President Abdel-Fattah al-Sisi, who has promised to protect Christians as part of its campaign against extremism.
The first explosion occurred in the city of Tanta in the Nile Delta, located about 100 kilometers North of Cairo, in the Church of St. George during a festive Church service and killed at least 27 people. At least 78 people were injured, reported the Ministry of health of Egypt.
A second explosion occurred a few hours later in Alexandria in St. Mark's Cathedral, the main Church of the Coptic Church, where the throne of the Patriarch of the Copts. The victims of the attack were 17 people, including three policemen. Injured 48.
"These actions will not harm the unity and harmony between people", — said after the explosions Patriarch Tawadros, who led the service at the time of the explosion, but was not injured.
"Islamic state" reported that the explosion was carried out in two suicide bombs vests, and promised to continue attacks.
In a televised address to the nation, Egyptian President al-Sisi declared a state of emergency for a period of three months, which should be approved by the Parliament, and called on the people of Egypt unite.
The President also ordered to send troops to key installations in the country to help the police.
Comments
comments