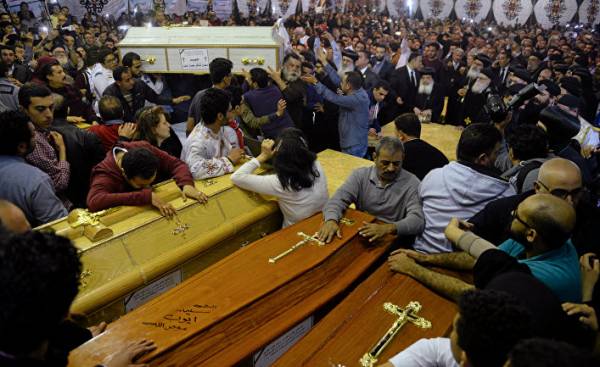 "How they get in here. How was it?" Dressed in a black 52-year-old believer hope* points to blood-stained beam and gives vent to anger. The Church of St. George in the city of Tanta (province of El-Gharbiya in the Nile Delta) became the target of a terrorist attack this Sunday which marks the beginning of Easter week. Another explosion, in the Church of St. Mark in Alexandria, brought the sad result of the terrorist attacks to 45 dead and hundreds more wounded. Responsibility for what happened took on itself the "Islamic state" (banned in Russia as a terrorist organization — approx.ed.) which have already mentioned the attack in St. Peter's Church in Cairo in December last year and the aggression against Copts in the Sinai, which now have to leave the house.
Security
Such insecurity leads to despair of Christians in the country that firmly hold in his hands the omnipresent army and police. "What is government for, if it does not fulfill its role?— outraged Nadia that is actively supported her brothers in the faith, although some recommend her to shut up. — What is government for, once his army and police are not scared of young terrorists, who no reason to kill us? Why in our Church can go without checking? They chose us as their target, and the government knows it. Why nothing is being done to prevent these crimes?" "We want to know how they were!" — echoed her parishioners.
In response to these questions, the Egyptian authorities tried to demonstrate even more hard and symbolic than usual, dynamism in the field of security. After returning from USA where he did everything to show himself as a bulwark against extremists, President Abdul-Fattah Al-Sisi announced on Sunday night to extend for three months a state of emergency throughout the country. Earlier it concerned only the Northern Sinai, where the government army is fighting with ISIS.
The Minister of defence in turn simply dismissed responsible for security in the province of al-Gharbiya. On Monday, the Ministers of defence and justice call for hearings in the Parliament where they will report on gaps in security that have repeatedly led to such tragedies. The deputies also intend to accelerate the adoption of amendments to simplify the legal procedures on terrorism.
The change in religious rhetoric
Christian activists and intellectuals have recognized the need to strengthen security, but fear that all these big steps will do nothing. "Security is only part of the answer to extremist aggression, — said Ishaq Ibrahim, a member of the Egyptian initiative for personal rights. — Requires that the state fought against extremism through active investment in education. In the current situation the so-called renovation of religious rhetoric is merely another form of state propaganda. We need concrete action."
Before the Church of St. George in twante gathered local people — both Christians and Muslims. Standing at the closed store group of four Muslim women came to Express support to "the brothers and sisters of the Christians." Iman heard very little about religious reform, but in any case, seek to distance themselves from those who committed these terrible crimes: "These people say of young people that Christians are unbelievers, they will go to hell, that they need to get rid of. We want to show that United in the face of this horror that we are against this, and that our faith are criminals".
Pope Francis is expected to arrive in Cairo on April 28 with a two-day official visit under the sign of dialogue between Christians and Muslims.
*All names are fictitious
Comments
comments