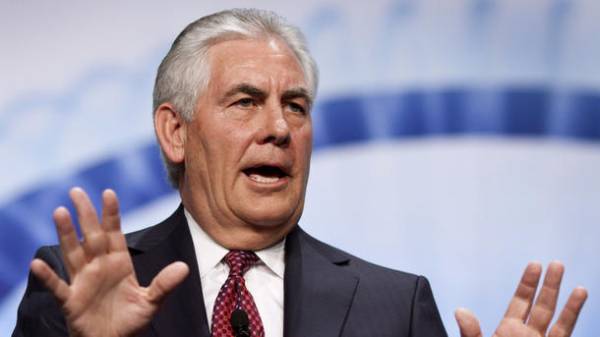 In the hall next week visit to Moscow, U.S. Secretary of state Rex Tillerson can make accusing Russia of complicity and concealment of war crimes committed by the regime of Bashar al-Assad, told the New York Post, without reporting the sources of information.
The British Sunday Times writes Sunday that Tillerson will require Moscow to abandon support for the "bloody dictatorship" of Assad.
She claims that the head of the American foreign Minister to present in Moscow, is evidence that "Russia knows and is trying to hide that Assad last week, have used sarin.
Also, the Secretary of the United States accused Russia of violating the agreement, from 2013 on supervising the destruction of Syria's chemical weapons, saying that thus Russia has not fulfilled its obligations in this area.
The newspaper reminds that in connection with new circumstances in the situation in Syria, the British foreign Secretary Boris Johnson has cancelled a visit to Russia.
Earlier it was reported that a meeting with the President of the Russian Federation Vladimir Putin has disappeared from the schedule of U.S. Secretary of state Rex Tillerson.
Comments
comments