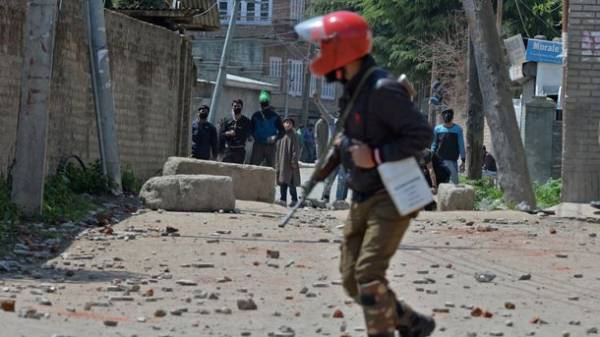 The election to the Parliament in the Indian state of Jammu and Kashmir over the mass disorders and the deaths of eight people. About it reports Reuters.
In several areas of the state placed under curfew, and the chief Minister of Jammu and Kashmir Mufti Mehbooba called to cancel the next round of voting. It needs to take place on Wednesday, April 12, in the city of Anantnag and surrounding area.
The opposition accuses the ruling party that failed to ensure the safety of voters.
The Kashmiris had to choose a Deputy for the vacant position from their staff in the lower house of the Indian Parliament — Lok Sabha. It claimed nine candidates, favorites are the representative of the ruling people's democratic party of Jammu and Kashmir Nazir Ahmad Khan and joint candidate of the party's national conference and the Indian national Congress and Farooq Abdullah. Just we have created more than 1.5 thousand polling stations, it was planned that in voting will take part 1.26 million people.
However, Kashmiri separatists announced that derail the elections and organized mass riots. As a result, 70 sites were closed prematurely because of the attacks of the crowd, the vote was attended by only seven percent of the electorate. The police tried to disperse the protestors, they pelted the guards with stones. In response, they fired tear gas and then opened fire on defeat.
The state of Jammu and Kashmir is bordered by Pakistan and is considered one of the most turbulent in India: across the border back regularly penetrate Islamist militants, to arrange attacks. In addition, the entire territory of the region claim unrecognized state "Azad Kashmir", de facto a part of Pakistan.
Comments
comments