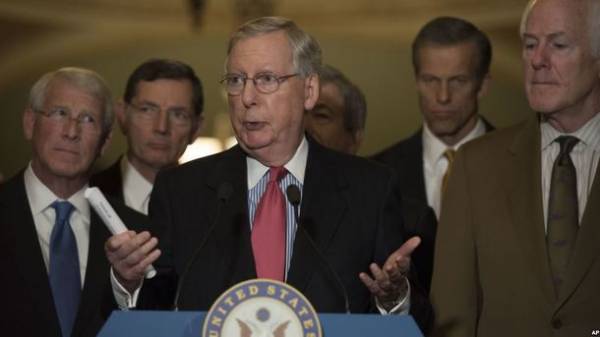 The Republican majority leader in the Senate Mitch McConnell stated that he does not exclude introduction of new sanctions against Russia if the proposal will receive bipartisan support.
It is reported by Voice of America.
"If the administration [trump] believes that additional sanctions, or we can agree on something that will have bipartisan support, I do not exclude this," McConnell said, responding to a question.
The legislator added that he "wants to speak to the Chairman of the Committee on foreign relations Bob Corker on additional sanctions against Russia in connection with its support of the regime of Syrian President Bashar al-Assad.
As writes the newspaper The Hill, a bipartisan group of senators, including the head of the armed services Committee John McCain ranking member Committee on foreign relations Democrat Benjamin Cardin in the beginning of this year suggested that new sanctions against Russia. Although the bill has already received the support of 19 legislators, it has not yet been considered by the Committee on international relations.
Meanwhile, the senators discuss how to respond to Russia's intervention in the presidential election in 2016, the troops continued operations in the East of Ukraine and support of the Assad regime.
At the beginning of this year, reminds the edition, The Hill – senators have proposed a bill which would prohibit the President Trump to lift the sanctions against Russia related to interference in the elections in the US or in Ukraine without the consent of Congress.
To the question whether the abolition of certain sanctions, the White house adviser of Kellyann Conway told Fox News that "everyone is seen," but the President trump separately called any speculation is premature.
Earlier this year Senate majority leader Mitch McConnell said that trump should not abolish the existing sanctions against Moscow.
Comments
comments