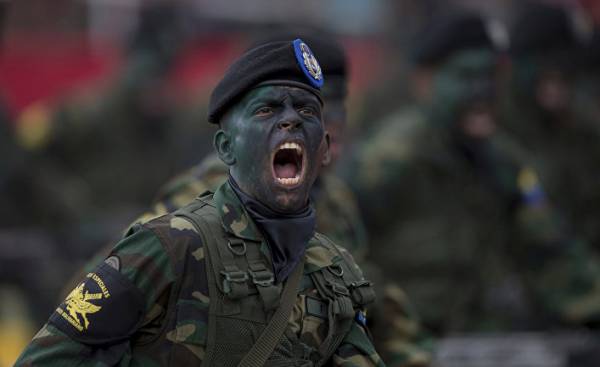 During the presidency of Nicolas Maduro, China became the main supplier of arms to Venezuela. It should be noted that in the days of Hugo Chavez, Russia was the main supplier of arms and military equipment in this South American country.
Hugo Chavez has bought weapons in various countries, as Cuba has sold Venezuela 400 thousand anti-tank and anti-personnel mines. since 2009 to 2013, Hugo Chavez is shifted to the supply of arms from Russia. During this period, Venezuela has bought arms and military equipment abroad in the amount of $ 13 billion, of which 66% goes to Russia.
Starting in 2013, Venezuela was reoriented to the conclusion of contracts with China. This year, Venezuela has signed 12 contracts with China for the supply of military equipment. According to a non-governmental organization Social Watch, in 2014, was signed 10 military contracts. Despite the difficult economic situation of Venezuela in 2016, continued to buy arms in China. The Venezuelan government has classified information on military contracts with China, even the Parliament has no information on military supplies, so their number is unknown.
The reason for the sudden reshuffle of Caracas towards Beijing is due on the one hand the fact that China is currently the main creditor of Venezuela, on the other hand the Venezuelan military was disappointed in Russia as a reliable partner. Suffice it to recall the outbreak of the corruption scandal involving the embezzlement of funds in the construction in Venezuela of a plant for the production of Kalashnikovs.
Kalashnikov
Over the past 50 years on the arms of the Venezuelan army was the Belgian assault rifle FN FAL. After coming to power of Hugo Chavez, it was decided to re-equip army units on the Russian Kalashnikov. Belgian rifle used at present only the police and private security forces.
The opposition repeatedly spoke against spending money on the purchase of Russian small arms as the Belgian rifle might remain on arms of the Venezuelan army. It is noteworthy that according to the Committee of Civil control, Venezuela individual armament tried to buy in the USA, the Netherlands and Austria. We are talking about military transport planes, patrol boats and training aircraft.
Was no exception, and Spain. In 2005, Chavez signed with Spain two contracts for the supply of eight patrol boats and 12 military transport aircraft. But Washington blocked the deal because they used American technology.
Then Spain became the main supplier of equipment and techniques designed to quell the unrest. However, in 2014, as a result of suppression of mass protests in Venezuela killed more than 40 people, the Spanish government banned the sale of this equipment to Caracas.
Comments
comments