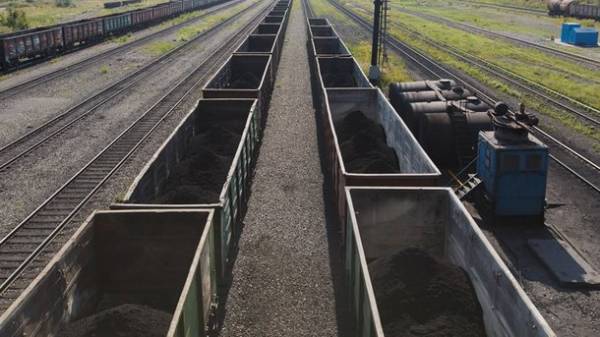 PJSC "Ukrzaliznytsia" is trying to eliminate congestion of routes with iron ore on the Odessa railroad by limiting the loading of a number of the Krivoy Rog GOK and the transfer of locomotives from the South-Western and the southern railway. This was announced by the head of the Federation of metallurgists of Ukraine Sergey Belenky.
He also recalled that in early April, the situation with the transfer routes of iron ore to the ports of the Odessa railroad with the Dnieper Railways has deteriorated significantly, which led to the restriction of loading on the mining companies Krivoy Rog.
"Underload from 3 to 6 April was the YuGOK – 3 route, at the Enterprise – 14 routes, CMCP – 3 route. The main reason is insufficient number of locomotives at the Odessa railway At an average daily delivery plan for the Timkovo junction 36 trains actually gave up 26 to 30 trains were delayed at stations Timkovo, Chervone Ozero, Kropiwnicki, pomichna," said Belenky.
According to him, on 6 April 2017 the situation with the transfer of cargo at the port of Odessa started to stabilize, including through the transfer of locomotives from the South-Western and southern Railways. In addition, in the operating fleet of locomotives on the Odessa railway has added a few pieces repaired.
"But it does not guarantee that a similar crisis will not recur in the future as fundamentally the situation with the fleet of locomotives is not solved. But we will fall with a record for the Ukrainian ports by volumes of transshipment of imported coal and export of iron ore", – stated the head of the FMU.
"With this quality of work of the transport monopoly of speech on any increase in tariffs for cargo transportation can not go, after all, none of their justifications for the tariff increase UZ is not showing how much she has lost income because of the lack of loading and how much of this lost business," concluded white.
As reported earlier, the MP of Ukraine, member of Verkhovna Rada Committee on European integration Oleksandr Vilkul, "Ukrzaliznytsya" does not cope with transportation of iron ore Ukrainian mining and processing for export in connection with shortage of locomotives.
We will remind that the head of Association of Enterprises "Ukrmetallurgprom" Alexander Kalenkov appealed to the Prime Minister of Ukraine Volodymyr Groisman with a request to instruct the Ministry of infrastructure and the "Ukrzaliznytsia" to cancel the discount for railway tariffs and port fees for the transit of ore and coal from Russia from the 2nd quarter of 2017. This decision, against the background of cessation of freight traffic from ORDO would help to unload transport infrastructure of the country for the transshipment of imported coal and export iron ore.
Comments
comments