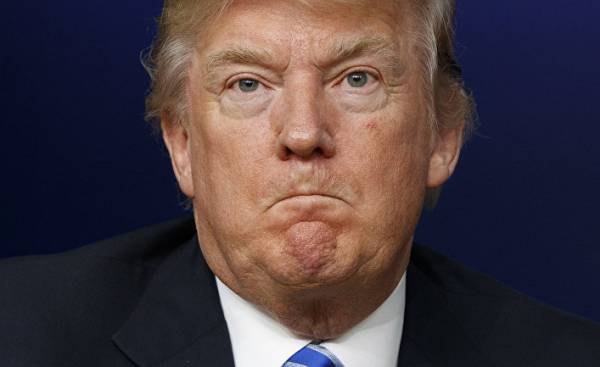 Donald trump's rarely seen so excited. "Little children!" — angrily exclaimed the President of the United States, referring to the recent attack allegedly with the use of poison gas in Syria. "Their death was an affront to humanity". And again: "I tell you, it is an attack on children yesterday really hurt me."
Trump in the White house Rose garden, beside him his guest, king Abdullah II of Jordan. His visit was long-planned, but the news from the country, the Northern neighbor of Jordan, has significantly reduced this meeting and forced the newcomer trump to take decisive action: suddenly he was faced with his first double crisis.
First North Korea, now Syria. The reality star was faced with reality. As a rule, he met her, resolutely stepping, obeying the instincts and emotions. "What happened yesterday is unacceptable," he said during a meeting with king Abdullah II, which was completely overshadowed by the horror that occurred in Syria. "This heinous act of the Assad regime cannot be ignored".

Trump is silent about the details
A sentence with literally explosive force. Perhaps trump would not tolerate the Syrian dictator Bashar al-Assad as a "political reality" — presumably only in order not to approach his ally, Russia? "Assad looks better than the other side," said trump a year and a half ago, although the atrocities Assad has long been apparent.
What now? What changed his mind? Apparently, recent photos from Syria. "For me, it's crossed many boundaries, not only red line" — an allusion to the empty threats of his predecessor, Barack Obama against Assad almost four years ago. "My attitude toward Syria and Assad, — said the tramp, and he seemed even proud of it, — much has changed."
But what does that mean? Diplomacy? Sanctions? Bombs? The ground troops? What trump wants to do not like Obama, who also expressed outrage, but then —quite deliberately — nothing? And where in all this is a war Assad's brother Vladimir Putin, who suddenly realized that "blessed" them with the new US President much more unpredictable than planned?
Trump, as always, is silent about the unpleasant details. Either he's not willing to make promises, or he yet does not know exactly what to do. Because everything happens too fast. Experts are wondering whether the retreat of the trump impulsive or thoughtful. But this is major news in the headlines of the day during which happened so many events.
Russia continues to support Assad
In political Washington, "exploded another bomb": right-wing chief adviser to trump Stephen Bannon has lost his place in the national security Council. Perhaps behind it is the internal struggle for power, in which respected experts have replaced close to Russia ideologue'bannon on security adviser Herbert McMaster. This, in turn, could lead to such an eventuality in Syria.
The turmoil began in new York in the Security Council of the United Nations. France convened a special session on Syria, and, according to the calendar, in April the Council is chaired by the U.S. under the leadership of the new Ambassador, Nikki Haley, diplomatically, but inexperienced former Governor. Drama: France, Britain and the United States carried the hastily drafted resolution on Syria. She strongly condemns the use of poison gas and decides to conduct an international investigation. The focus — the Syrian air force.
But it is clear that Russia will never accept it. Moscow immediately gives it to understand that actively defending Assad. In the Security Council Deputy Ambassador Vladimir Safronkov — violent replacement of the recently deceased, a respected veteran of the U. N. Vitaly Churkin went further. And reached the point of absurdity.
The resolution reflects "a campaign of the West against Damascus," — said Safronov loud and needs to be thrown "in the dustbin of history." The organizers of the "alleged incident" was not Assad's troops, and "chemical terrorists". Long, violent tirade Safrankova full of false accusations, red herrings, smoke grenades and "fake news" — strategy, which now must be familiar to Americans.
Trump in the same situation that Obama
Nikki Haley retorted with a flaming report. With a trembling hand she raises the two pictures of dead children. "Look at these pictures. We cannot close our eyes to it," she says. Unlike trump, she blames not only Assad, but also, and primarily, Russia. "This Council believes himself to be a supporter of peace and human rights — calls on it. — We do not deserve such descriptions, if we don't act today."
A short but moving statement instantly turns Hayley into a new star of the UN. Although it contradicts itself, as recently called Assad an integral part of the Middle East. Just as U.S. Secretary of state Rex Tillerson, who last week said Assad's fate "to address the Syrian people", not the West.
However, Haley and trump noted that in their coordinated — and, of course, popular among the voters change opinion on Syria, they can't settle for empty words. As expected, Moscow has blocked the resolution, it will be revised, that is, blurred. In any case, she would have the same effect as all the resolutions before it.
Now trump got to where Obama was three and a half years ago. "The United States is on the side of our allies around the world and condemn this heinous attack," he said in the Rose garden. What now? "I don't like to say where you're going and what you plan to do," he winks.
Comments
comments