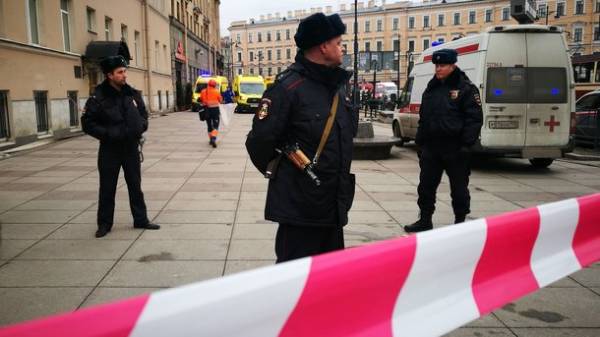 Search-and-rescue operations at the scene of the explosion in the subway in St. Petersburg is completed, said the head EMERCOM of Russia Vladimir Puchkov, reports RIA Novosti. "Search and rescue operation is completed. But the mode of "emergency" for the controls, and only fire and rescue of the garrison of St. Petersburg remains" — he said during the meeting of the government Commission for emergency situations.
Puchkov ordered to attract additional forces, if necessary, to provide practical, targeted assistance to all the families of the victims and of the victims and to assist law enforcement authorities in the proceedings under the auspices of the National antiterrorist Committee. "Special attention to the victims. Everyone should receive comprehensive health care based on the concomitant injuries," — said the head EMERCOM of Russia.
Reported to the head of the National center for crisis management EMERCOM of Russia Viktor Azucena, on the site of emergency deployed operational headquarters. "On the spot organized the work of psychologists who help the victims, their families and relatives. Additionally, from Moscow to St. Petersburg sent a group of psychologists of the center of emergency psychological aid," said Azucena. According to him, victims are directed to five medical institutions in the city.
For liquidation of consequences of explosion created grouping of forces and means employing over 1000 people and about 300 units of equipment.
In Moscow and St. Petersburg continue to operate the hotline opened in connection with the explosion: 8-800-7751717 (Moscow) and 8-812-7182516 (Saint Petersburg).
Comments
comments