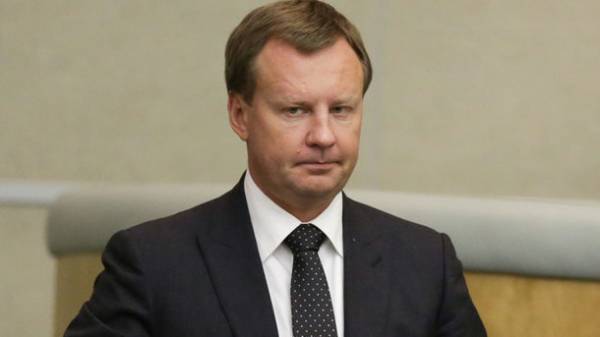 Ex-Deputy of Russian state Duma Denis Boronenkov, in addition to the investigation of the case against the former President Viktor Yanukovych also questioned in the case on crimes during Euromaidan. This broadcast "112 Ukraine" said the head of the Department of special investigations of the Prosecutor General Sergei Gorbatyuk. According to him, the "case of the Euromaidan" Boronenkov questioned once.
"Yes, indeed, he really was summoned for interrogation, and also on crimes, committed during the protests, as far as activities in this time period, a criminal organization, a fact which we're investigating. Investigators took a statement from him, which relate to the sight of a government official from the other side, the developments regarding the support of Russia, former high-ranking officials and, in particular, is the development of events after independence, the Congress, which did not take place after February 22, in Kharkov, these readings are included in our materials," – said Gorbatyuk.
Earlier Russian media reported that the Investigative Committee of the Russian Federation (RF IC) opened a criminal case on the murder of former state Duma Deputy, Denis Boronenkov.
We will remind, eks-the Deputy of the state Duma Denis Voronenkov, was shot dead on March 23 in the center of Kiev on Pushkinskaya street. Security guard ex-the Deputy shot the attacker, but he was injured. The gunman was hospitalized. Doctors tried to save his life, but he died in the hospital.
The adviser to the interior Minister Anton Geraschenko reported that the shooter – a citizen of Ukraine, born in 1988 Paul Parsow. He was born in Sevastopol, was recruited by Russian intelligence agencies, and supposedly he was tasked to infiltrate one of APU units or the National guard.
Wife Boronenkov and the second witness in the case of Yanukovych, ex-the Deputy of the state Duma Ilya Ponomarev has provided state protection.
Comments
comments