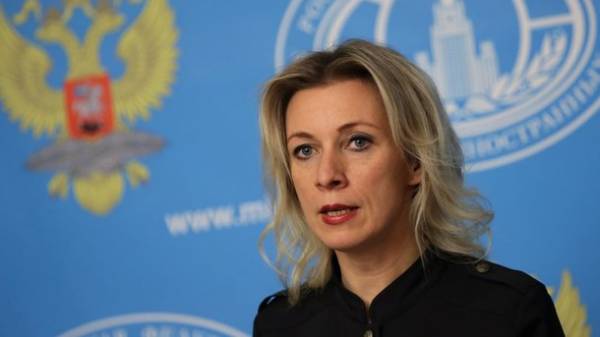 The line of Kiev on the complete rejection of the Russian language, the official representative of the Russian foreign Ministry Maria Zakharova called "linguistic genocide." About it reports RBC.
"In fact, in the country (in Ukraine – Ed.) at the state level introduces linguistic genocide. We understand why the representatives of the official Kiev, there are so. They are under heavy oppression by the nationalist ideas of the radicals, which they encouraged with appropriate action, and today is back to put that Genie in the bottle", – said Zakharov.
The speaker of the foreign Ministry of the Russian Federation recalled submitted to the Verkhovna Rada of Ukraine the draft law that provides quotas for Ukrainian language television.
The approval of such bills, according to Zakharova, indicates "forced Ukrainization of the country." Also, in her opinion, this leads to a struggle with the languages of other ethnic groups living on the territory of Ukraine.
According to representatives of the Ministry of foreign Affairs of the Russian Federation, it can become a tool for "limitation of rights and suppression of dissent".
We will remind, recently the President of Ukraine Petro Poroshenko announced its intention to offer to introduce quotas for Ukrainian language in the broadcast of the TV channels, as was previously done on radio stations. The President believes that the Ukrainian TV channels unacceptably low presence of the state language.
As reported, November 8, 2016, the law on quotas for songs in the Ukrainian language on the radio was in force. According to the law, a minimum percentage of songs in the Ukrainian language shall be 35% of the total during the day, in particular in the range from 7:00 to 14:00 and 15:00 to 22:00.
Also Verkhovna Rada voted in the second reading for the bill on the ban of import on the territory of Ukraine of the books "anti-Ukrainian orientation" of Russia and the temporarily occupied territories of Ukraine. For the bill then voted 237 deputies.
Comments
comments