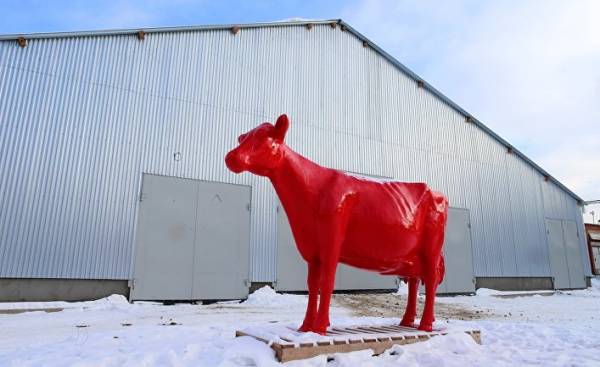 "Spectrum" is continuing to explore how international sanctions imposed in response to Russian "anti-sanctions" have affected the different sectors of the Russian economy. We already talked about this with recently left his post as the Deputy Minister of economic development of the Russian Federation, who was responsible for the macroeconomic block Aleksey Vedelem. Managed a detailed discussion on this topic and a leading analyst of oil and gas industry and partner information consulting Agency RusEnergy Mikhail Krutihin.
Now Explorer "Spectrum" Maria Stroeva decided to discuss the impact of Western sanctions and the retaliatory embargo on Russian agriculture with those who are facing their impact on practice and constantly — the head of one of the largest agricultural producers, renowned Director (and owner) the suburban Farm named after Lenin Pavel Grudinin, remembered by many with its Frank and direct speech at the Moscow economic forum 2015 in Trading-Industrial chamber of the Russian Federation, where he spoke about the fulfillment of the decisions of the President, excessive Imperial ambitions, hinders the development of the economy and talk about corruption, who are listening to corrupt themselves.
Spektr: Pavel, I'm really looking forward to the truth that you told us how to really live today, the Russian entrepreneur — manufacturer of agricultural products. Your business was affected by the sanctions and counter-sanctions?
Pavel Grudinin: sanctions On us are generally not affected. We never borrowed from the banks involved in lending to the West. We had enough money, we loans, do not take. But in December 2014, the ruble collapsed, and immediately began to bring in the country less products. And sanctions, counter-sanctions has nothing to do with it. About the sanctions our President has said in 2014 that they have touched "two Jews and one crest" (said during a speech at the SPIEF, approx. "The spectrum"). And, apparently, it is because of these three we have introduced counter-sanctions.
But they are no role played. All the restrictions bypassed via Belarus, Azerbaijan, Burkina Faso. And we got absolutely the same products as before. Just the longer way. That could have an impact on logistics and the amount of bribes to customs officers. All!
And so we did not see what became less food — to the point before they become unavailable. What is the point to bring into the country food, when in dollars, its price is not reduced, and the ruble became two times higher. In this respect, the market seems to have cleared. But in order to increase production of its own products, you have to invest. And then immediately, in a year or two, depending on where you invest can come from the additional revenue. But because with everything happening in December 2014 Central Bank's refinancing rate has flown away God knows where, the state budget has ceased to Finance agriculture.
Here I am a member of the public Council of the Ministry of agriculture and food right now with meeting. For three years, reduced state funding programs. Today we discussed: they all will soon go to zero. We have so-called state support has decreased, real. Talk about the fact that she is not reduced — it is just talk.
But we are talking about the fact that it is not something that is not decreasing but increasing!
— This is nonsense. We have just now discussed. If converted to real money… Listen, turn 216 billion rubles into dollars. And you will understand that when we joined the WTO, our government can Finance agriculture at $ 9 billion. Then it happened in the best years at 4.5 billion. Now it is 3-3,5 billion. That is, we reduced in US dollars, the financing of agriculture.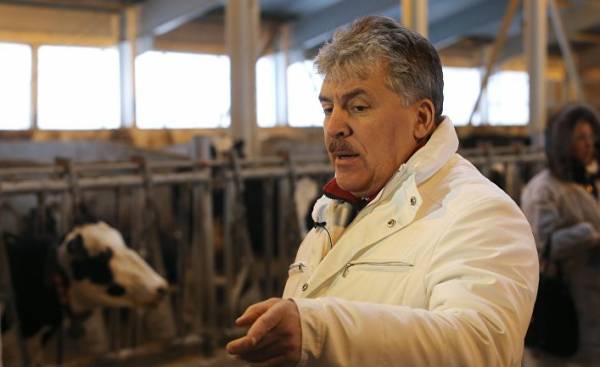 © RIA Novosti Vitaliy Belousov | go to Photobacterium Farm them. Lenin Pavel Grudinin
We buy everything abroad. Investments in milk — all the equipment is imported. Modernization of poultry farms — all the equipment is imported. So there is no increase, moreover, this decrease in appropriations. Moreover, due to the fact that real incomes fell, it buys less. We have achieved one hundred percent of "import substitution" for one simple reason — people do not buy anything!
If people do not buy organic milk or dairy products — anything you do, but why is the milk necessary? But palm oil has emerged, and it konkurentosposobnoi because people focus on the price. But it's irrelevant to this import substitution has not. All bravura talk on this subject is foolishness. I have a friend, a well-known businessman Oleg Orphan (the Owner of Istrian cheese "Russian cheese" Prime "Spectrum"). He says: we made cheese. I say — how your cheese is? He says 800 rubles. I say your cheese who buys, in spite of your fame? He says, every one who comes into the store, said that 800 rubles is not available price, and not buying.
And at the same time the businessman himself is an Orphan said to himself, I land, because the terms obtained from the regional budget of the grant, I can not absolutely nothing, not divorce, nor open a new business or take out a loan. All businessmen who really believed that we will begin to develop, are in a situation of falling consumer demand and mired in debt.
Now on the support of agriculture allocated 216 billion rubles, and will be $ 196 billion. But in 2019 even less. After the adoption of the triennial budget of the Ministry has received a command to adjust the volume of the state program of development of the industry under the budget. But the loans already navydavala. So, in the program of the state loans, which must be maintained. The more credits, the more maintenance. Now all the money from the program will go to service previous loans. So, investing next year will cease altogether.
With me Ministerial leadership agrees — Yes, you are right, stop. So tell the truth! Why encourage entrepreneurs to take loans at 5% when they just will not. Jesus Christ fed with five loaves five thousand people, and we have five billions trying to feed them all. But it won't work.
Investment in the dairy industry, greenhouse agriculture — no money at all. But even this would be possible somehow to survive, if the interest rate of the Central Bank were explained and people had the money to buy organic foods. Without this, no real of import substitution can not be.
— What do you have? How are things at the Farm named after Lenin?
We do not take loans. We do not receive state support. Lenin state farm, producing milk, berries — that is what, in principle, the government supported. And we got in 2016, the support of four million rubles. Four million for us, it's… (laughs). Well, I can give an example: in order to provide school meals in your school state farm — it is municipal, but on our site — we've spent six million. At the clinic lived normally, spent nine million rubles. It is laughter, not support.
Here we are today, the Ministry said, because of the program of preferential crediting of reduced appropriations for the milk. Produced litre dairy industry began to get less support. And due to this will be able to give some soft loans at 5 percent. As a result, all have gained nothing, and the few closest to the trough will get something. All the money, as usual, is not enough.
Svetlana Medvedev, of course, will be interested in "agribusiness" got the money — and he'll get it. (Holding "Miratorg" is the largest importer of meat and pork producer in Russia. He belongs to the brothers Alexander and Viktor Linnik, who had previously stated that they are not relatives of the spouse of Dmitry Medvedev Svetlana Medvedeva — nee Linnik — approx. "The spectrum"). If Tkachev Agrofirma (agro them. N. I. Tkachev was founded in 1993 by the father of the current Minister of agriculture Alexander Tkachev, — approx. "Spectra") counts on the state support she gets. There is always a first among equals. It turns out: "there's no money but you stay." This applies to most agricultural enterprises, medium and small. Yes, and big too. And the result is the monopolization of the market.
But you first said that the market is cleared. That is what happened with the competitive environment?
— As soon as 7 August, the President announced the introduction of contracti from our Ministers went to China, South America, Africa. I was present at meetings where it was announced that we will bring tomatoes from Tunisia — anything, just to saturate the market. We frantically changed one import the other. But it stopped in December. If you look at our statistics, you will see that in 2015 even with do not fall under the counter countries the total turnover of agricultural products declined.
First, they could not immediately supply us with as much as it was on the market prior to the imposition of counter-sanctions. And secondly, collapsed the ruble led to the fact that no one could buy brought. So was a shock. I had to get used to the new prices to all without exception. Again, essentially no counter was not. Everything just became more expensive, that's all. If you come to the store will tell you — here we have Swiss cheese. Although he's actually French. And if you ask the restaurant to burrata, that will give it to you. And or it will be ours, and it is impossible, or it will be the Italian imported on the sly.
— And what about implementation of your products?
— Last year, when they began to realize our strawberries, I went to the wholesale market that supplies products in all of Moscow. And since I am the expert, saw a lot. I can tell you that there are two kinds of supplies: the first on the boxes anyway written the manufacturer, and the top stamp came from Burkina Faso. But a box of something Turkish. Accordingly, the berries hardly anyone in Burkina Faso spasoval in the Turkish box. Other supplies — nameless.
A normal manufacturer never be without a special order to assemble their products in such a box. He will always slap on your logo. So I will say unequivocally that both Greek and Turkish strawberries is present to us in the market. Another thing is that it became less. And she with our products could not compete. We smell, taste — people immediately understand what we quality. We sold 20-30% more expensive than they are, but we stood in the queue. And bought better, than the so-called Serbian strawberries — in fact, in Serbia there is so many fields as there seems to be talking berries.
That is, in reality, we competed with the same person before. But because of the ruble they could not sell as cheap as before, and became less competitive. By the way, the Minister Tkachev said here that is too strong ruble a problem for us. Now again it would be beneficial to take, say, from Denmark through Belarus milk and pork. The strong rouble stimulates domestic production.
Another thing is that the Central Bank wanted to spit on it that says the Minister of agriculture. The interests of Rosneft and Gazprom outweigh any interests, including the public.
— But perhaps today is not the same thing?
— You know, there was a Minister of defense, who said: "what's good for GM is good for America." And we have the means itself: what is good for Gazprom is good for Russia.
— How things are today with production costs? As I understand it, more expensive fertilizers, electricity becomes more expensive. So costs are rising.
— You clever girl! I always say — there is no concept of "import substitution" is the concept of "competitiveness". If our cost is lower, at equal quality we and without any counter-sanctions squeeze import. Because we can dump, we close to carry fresh produce. But if our cost is higher we will lose.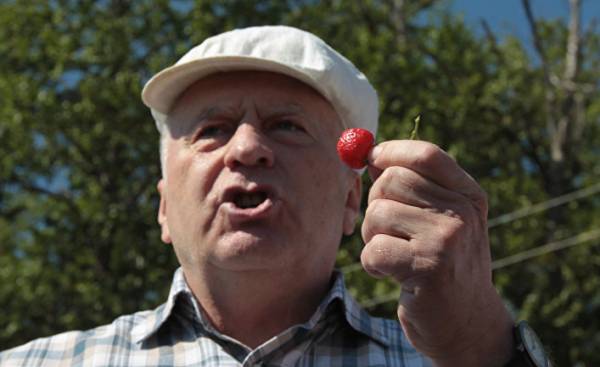 © RIA Novosti, Valery Melnikov | go to potomacfever Zhirinovsky together with activists of the liberal democratic party took part in the collection of seasonal berries at the Farm named after Lenin
When the crisis started, everybody was saying that we should support domestic producers. The President even said that we should not raise taxes. Well, Yes, taxes, no raise. But introduced the excise tax, the "Plato" — as a result of our production costs started to rise. We promised to reduce administrative barriers. No, they only become higher.
What are the constituent parts of our cost? Wages — and people have to pay more because everything is more expensive. Fertilizers — and they become more expensive than the first 40%, then another 10%, then another 15% because they were bought for dollars abroad and bought.
I will still tell the story. We signed a contract with the Dutch company for the supply of robots. And was the price when the Euro was worth 40 rubles. We have paid the first tranche. And then Hlobil — without a Declaration of war, the Euro as flew forward! And we have the next installment already paid at the rate of 75 rubles per Euro. And earn-we're in! And all our so-called business plans flew to hell. If we at least knew about what will happen to the ruble!
And, by the way, was an interesting situation when we, agricultural experts invited to Ksenia Yudayeva, Deputy Chairman of the Central Bank. And all the experts, not saying a word, began to tell her — please tell us at least approximately how much it will cost you a dollar. Let it be a hundred rubles for a dollar, even two just so we knew! We don't have time to be idiots. We can't plan! Please give us the insider information we need to work! She says: we have a free course, to predict anything is impossible. Well, we all know what he is free. In the end, it turns out that we are not competitive and any import can not be. For one reason — we never know what decision at what point will state.
Decided to stop supporting agriculture — so we have to raise product prices to maintain profitability. But we can't raise prices because people today are unable to buy expensive products. And it will lead eventually to the destruction of inefficient enterprises and serious problems in effective. Because they can't increase production. Thus, administrative pressure became stronger, the tests become more. Each reviewer takes the penalties and those amounts can be directly put into the cost. A real dialogue between business and government is very different from what is told on TV.
— And produces the Lenin state Farm now more or less than before the summer of 2014?
— You know, we still atypical enterprise. We modernize production and produce more result. And, for example, we made a potato and vegetables more now, due to the fact that everything turned out well with the weather conditions. But our colleagues and competitors, too, have produced more for this same reason. So the price of vegetables decreases the second year and it is already below cost. And you think: "why am I so much fired, if I is even can't sell"?
The capital market is limited. And everyone starts to dump. And I have been paying workers wages 76 thousand rubles (1,25 Euro), and my friends-competitors pay 20 thousand (EUR 330). And I pay all the taxes and fees is a huge amount and the competitors, these costs are much lower. I eventually for the third year loss from the production of vegetables. Although I produce very much. The products of our farm is unique. You won't find anywhere else strawberry that broke at five in the morning, and at eight in the morning it is eaten in the city.
— It's true. Your strawberries and apples I have periodically.
— Here you see! Our weapons — our strawberries, our fresh milk. But, you know, this is my market — Moscow. There are people who can afford to buy our fresh and tasty. But they are few. And most impoverished. They choose the products for the price. And the price is something like cheese, something similar to sour cream, no relation to natural milk is not available. And domestic consumption is not growing.
Here in the state Duma at the hearings suggested to plow another 40 million hectares of land. Well, well. Plowed. Than sow? Grain. It is also possible to export overseas. But never in any country in the world exports has not led to the development of agriculture! Need domestic consumption. That is a little. And will take out a huge amount of grain for export — you have fallen off the world price.
We here in the Ministry of agriculture asked what the purpose of the state program of development of agriculture. They say it is necessary to achieve 90% of the Russian goods on the internal market. Yes, we have already achieved! We just stopped eating that, what we need to achieve. We have this already, not 90, and 100% if you need, draw and 110. In this same program says that in agriculture wages in monetary terms should be 55% of the wages in the industry. In America, 120% of the urban wages from the villagers, and only in this case they live in the village. And it is written in the us is not even stagnation, and dying villages. There's nobody left to live.
By the way, you can tell a lot about our success, but money for seed, then no. Some registry is. If you show up in their Ministerial papers agricultural growth by 5-6%, why peasants have no money for seed? The grain that is in storage, they can simply not manage to buy. They were promised preferential loans and incentives are not enough. I will say — take at 14.5% credit. Such money no one. The result will sow less.
I'll tell you more. What is the price on the free market? It is the balance between supply and demand, everyone knows that. Grain to date the export took less than last year. And the extra left in the country corn has put pressure on the price. But the price is not falling! That means no grain. You can trick, deceive those in power, and the economy can not cheat.
— That is the classic way ruin not in toilets, and in heads. The reason for all the failures of the economy — not sanctions, but in our usual style of farming, right?
— Of course. Our President said that the sanctions we will reply the freedom to conduct business. He said it, heard it, and quietly forgotten.
Comments
comments