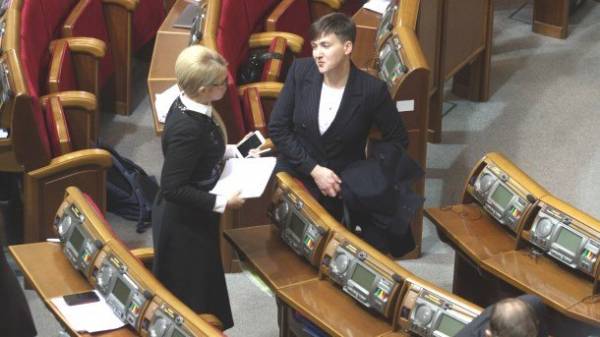 The people's Deputy Nadezhda Savchenko said that the leader of "Batkivshchyna" Yulia Tymoshenko to behave carefully, because to her there is no trust. She said this on air of TV channel "112 Ukraine" the program of Dmitry Gordon "GORDON".
The MP does not believe that Tymoshenko can do something good for Ukraine.
"I just don't believe her. I heard that people who come into power, changing the blood. For Tymoshenko, I, like all Ukrainians, watched for 25 years. And never was she in power or going into power, as it is now – I didn't believe her. Can't explain this feeling… It's intuition… don't think for Ukraine it may do some good," said Savchenko.
"It looks cold, like a wax doll. I thought that it seems from the TV screen. But no – in life, it seems close to the same. At the same time, it is clear that for this "wax" something else. Not to say that it is interesting to me, rather, I would be careful with her", she added.
She informed Yulia Tymoshenko told why took Savchenko to his party. She noted that although their eyes and went, but she did not believe it was a mistake.
Comments
comments