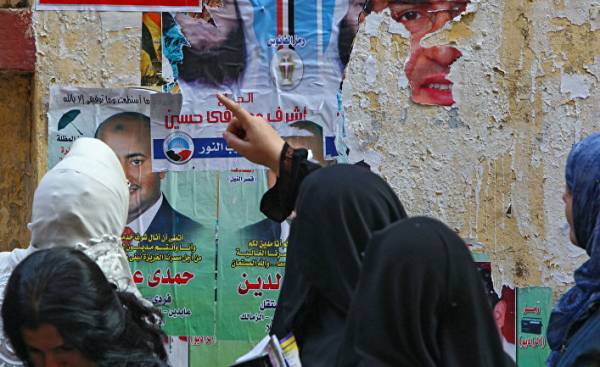 For the Arab world the sentence which was passed by the judge Rabbi Maalouf (Rabih Maaluf), was nevertheless legal and social milestone. He rejected the application of article 534 of the Lebanese criminal legislation which is to protect public morality, punishing "sexual acts contrary to nature" — namely, homosexuality.
But Maalouf has decided that the guaranteed in article 183 personal freedom more important, and acquitted six transgender people who were under arrest because of their sexual orientation. The January verdict of the judge in favor of the gays were not only in Lebanon, but the first, which gives them the rights stable legal basis in the region, where in some places homosexuality is still punishable by death.
Lebanese Dating show "Na' ashat" (Lebanese slang word for "glasses!") channel LCBI destroys at the same time, other social norms: men are fighting here for the location, 30 self-confident ladies who can freely choose who they will date. Here a casual joke about sexual preference and extramarital sex. Will Beirut, has long been known for its turbulent parties, now the spearhead of Arab sexual revolution?

Perhaps the woman is still not a object?
They need more critics. Numerous reports of the United Nations a few years ago declared insufficient emancipation one of the main reasons for the backwardness of the Arab countries. According to Egyptian feminist Mona, Eltahawy (Mona Eltahawy) the lack of rights of women has its origin from the "toxic mix of culture and religion." Living in Germany, Turkish Muslim writer Seyran Ates (Seyran Ates) speaks of the "fatal" consequences of sexual harassment of women "for the whole culture." A free society needs a "free lifestyle".
Freedom, which constantly interferes with the religious establishment. Radical preachers that have become famous TV stars in the region, constantly issue new fatwas (religious opinions) to keep your heterosexual world, which is dominated by men. Some seem to be just grotesque figures. So, a preacher has banned women from touching bananas, and the imams were discussing that women may, after all, not objects and of mammals with personal rights.
The social climate is strictly Puritan. Everything about women or sexuality is prohibited. In Algeria, saw Park benches that men and women could not sit together, even married couples, the police forbid to go hand in hand. It gets even tougher for homosexuals. According to the research Institute Pew 80% of people in Lebanon have a negative attitude towards gays in Egypt — 95%. In Saudi Arabia or the United Arab Emirates for same-sex sexual relations punishable by death.
In Tunisia, a lot of women judges
The "Arab spring" heralded changes in these matters. Today in Egypt 15% of members were women, as many as never before. The situation is similar in Tunisia, where women besides make up one third of judges and engineers along with 40% of lawyers. During the revolutions in Egypt, Libya and Yemen women from the beginning played an important role. They wanted to free themselves not only from political oppression but also from male chauvinism.
But the conservative camp does not want to tolerate this. He tries to stop or roll back emancipation. "Change in the Arab world confront two major obstacles: the despotism and blood-thirsty radical Islam," said Moroccan Rachid Bodieb (Boutayeb Rashid), the author of a book on sexual discourse in Islam "Orgasm and violence."
This applies even if, strictly speaking, a liberal Lebanon. Frivolous TV show "Na ' ashat" caused the protest. After a particularly blatant episode in which the lawyer stripped to his underpants to impress the ladies, leading the Yamina Fuad (Fuad Jamin) at the end of January was sued for "insulting public morals". He faces a fine and possibly a ban transfer.
Hizbullah is firmly opposed to women
The Minister of information of Lebanon, Melhem Riachi (Melhem Riachi) considering since the publication of the new directives against "immoral" TV programs. "We don't want to stifle the media and keep their ethics," he assured. A dramatic new Directive could be a reaction to pressure from the Shiite Hezbollah, a religious party that has the strongest power in Lebanon due to its of the popular militia. TV shows like "Na ' ashat" "destroy the next generation" stormed Hassan, Fadlallah (Hassan Fadlallah), one of her deputies.
In General, it appears that in recent months Hezbollah is trying harder to promote its conservative worldview, primarily in the South, where its influence is almost unlimited. So, in July 2016, a municipality South Lebanon Gibit wanted to ban women's access to Internet cafes and to close all places of entertainment for a moment of prayer.
Not far from there, in al-Khiyam, the mayor, a member of Hezbollah, in the same month, has banned women to participate in local marathon. 13 ladies still ran in protest. In December last year at the University of Beirut almost broke a commemorative event dedicated to students who died during the accident: supporters of Hezbollah, has forbidden the reproduction of the recording of the world famous Lebanese singer Fairuz (Fairus). In January of this year, Shiite municipalities tried to close all wine shops in the district of nabatieh (Nabatia). After mass protests they were forced to abandon their plans.

Center for gay and lesbian orgasms
So, even in Lebanon remains unclear what will define public life in the future: the new permissiveness, or the old modesty. On the one hand, the society of Muslim scholars in Lebanon called historic verdict of the judge Maalouf "a shock to our society," as a result, even there are gays still discriminated against, arrested, tortured.
But at the same time in Beirut, the play "Kafas" touches on the stage the topic of lesbian orgasms. Psychiatric Association Lebanon in 2013 declared that homosexuality is not a disease. For two years, she calls to cancel, finally, article 534 against "unnatural sex", which originally was introduced at a time when Lebanon was a French mandate territory.
Organization Helem dare even to open in the Lebanese capital center for homosexuals. "Finally had space to discuss sexual rights," says the Director of the centre Genva Samhat (Genwa Samhat). Living in Germany Turk Ates looks at it with cautious optimism: "the Sexual revolution in the Arab world began long ago. But while it unfolds, especially in private life."
Comments
comments