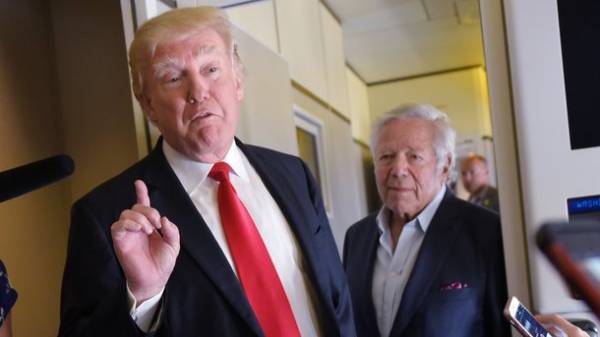 The President of the United States Donald trump is promoting its plans in domestic politics. But suspicions about the relationship of his election team Russia, he is still this way. To put an end to the scandal of his administration must clearly define its policy towards Russia. And the easiest way to do this is to devote more efforts to end the war in Ukraine, which is fueling Moscow. It was in the pages of the Wall Street Journal writes former General Secretary of NATO Anders Fogh Rasmussen, says ZN.ua.
He recalls a tough foreign policy President Ronald Reagan during the Cold war, which systematically pushed the then Soviet leader Mikhail Gorbachev to demolish the Berlin wall and the end of confrontation between East and West. Today, the split between the parties is not through a symbolic wall, and lies in the dangerous situation in Ukraine.
"Moscow remained in the Donbass, because the West allowed her to do it. The United States can demonstrate Western resolve, tightening sanctions against Russia and increase the cost of Russian aggression, passing Ukraine defensive weapons," writes Rasmussen.
The former head of NATO recalls all the Pro-Russian statements trump made during the election campaign. And someone can come to the conclusion that the President of the United States cannot change its political course. But the Reagan experience may indicate that, as a show of force can change the conditions. "If trump will take a tough stance against Moscow, he can confound his critics," – said Rasmussen.
In his opinion, the war in Donbass is a ticking time bomb. However, it can be cleaned, if we find a new formula of cooperation with Moscow. For Kiev, it can bring greater security. Moscow – freedom from Western economic pressure, and President trump it will be gambit who freed him "from the demons."
We will remind that yesterday at a public hearing, the head of the FBI confirmed the existence of the investigation communications team trump with Russia. However, he noted that the office neither confirms nor denies the existence of any investigations. However, in this case makes an exception.
The edition of Newsweek wrote that the US Democrats are looking for reasons to impeach trump.
Previously, Donald trump said that under his administration will be created the most powerful army in history, which he hopes will not have to use.
Comments
comments