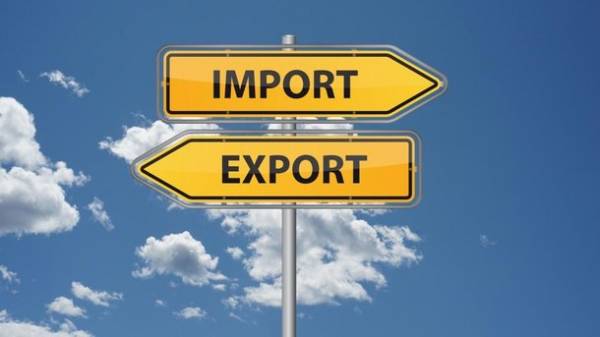 By the end of 2016, the export of Ukrainian goods amounted to 36.4 billion dollars, which is 4.6%, or $ 1.8 billion compared with 2015. About it reports a press-service of the Ministry of economic development and trade (MEDT).
Negative trends, according to the Agency due to:
the unstable political and economic situation in certain districts of Luhansk and Donetsk regions due to the continued military aggression of Russia;
the limited access to credit, systemic problems of development of foreign economic activity (VAT refund, currency, customs and tax regulation), which was supplemented by the introduction of the Russian Federation embargo against food products and restrictions on the transit through its territory.
The decrease in exports of goods was observed in the metallurgical complex ($1.2 billion or 12%), chemical industry (577,1 million dollars, or 22.7%); engineering (to 439,3 million USD or 9.2%).
At the same time, increased exports of agricultural products and food industry in 721,2 million dollars (5%) and light industry of 63.4 million dollars (7%), in particular, textile and clothing 24.2 million dollars (7.3%).
In the structure of exports in 2016 the largest share was made up of the agriculture and food industry (42%), metal products (22.9%), and engineering (11.9 per cent).
In the context of Ukraine's trading partners in exports remains the largest in the European Union, whose share amounted to 37.1 per cent (its share increased by 2.8 percentage points compared with the figure of 2015).
Ukrainian exports to the EU by the end of 2016 relative to 2015 grew by 3.7% (to RUB 482.5 million dollars) and amounted to 13.5 billion dollars. Main articles of export of steel, agricultural products and food industry (30,5%), metallurgical complex (22,9%), mechanical engineering (15,8%), mineral products (10.8 per cent), wood and paper pulp (6, 5%), light industry products (by 6.0%).
Exports of goods to EU countries saw an increase in volumes in most sectors, except for the production of mineral products and chemical industry. In 2016, most in the EU has increased the supply of various industrial goods ($149,7 million), equipment ($125 million), wood and paper ($103.8 million), light industry products ($76.4 million) and agricultural products and food industry (73,8 million dollars).
Russia's share in Ukrainian exports of goods amounted to 9.9%, compared with 2015 — less than 2.8 percentage points (in 2015, the figure was 12.7 per cent).
Comments
comments