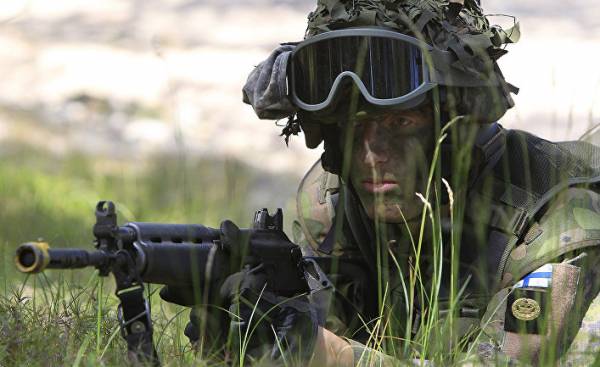 Jens Stoltenberg, Secretary-General of the North Atlantic Treaty Organization (NATO) stated that in the countries of the Baltic region (North-East Europe to the Western borders of Russia) until the end of June this year will focus the armed forces of this bloc. In this regard, the NATO Secretary General in his annual report address to the Organization stated the following: "Now while I'm talking about this issue, they have already started the deployment in the region."
Next, Jens Stoltenberg continued: "the transfer in this region representatives of all four branches of the armed forces, are involved in at least 17 different countries-NATO allies. We intend to complete the transfer of military units of all military branches by June this year."
According to the statement by Stoltenberg, the end point of transfer and further basing of NATO troops will four countries of the Baltic region — Estonia, Latvia, Lithuania, and Poland. It should also be recalled that the Director of the European cooperation Department of Russian foreign Ministry Andrey Kelin 23 December last year stated that, because the deployment of new forces and strengthening military infrastructure of the North Atlantic bloc in Eastern Europe and close to Russia's borders, Moscow will give these aspirations an adequate response.
Andrey Kelin said on the matter: "Since the strengthening of the military infrastructure of NATO comes close to Russia's borders, Moscow will take appropriate retaliatory measures."
Further he also stressed that NATO policy is unlikely to undergo significant changes after the White house will begin to work the new us administration of Donald trump. Therefore, even considering that all power will soon pass to the new President of the United States, NATO (associated with increased presence of the bloc in Eastern Europe and the Baltic sea) clearly constitute hostile actions undertaken to exert increasing pressure on Russia. And in the near future they will be implemented.
With the growth of tension in relations between Russia and the West, especially after the accession to Russia of the Crimean Peninsula, NATO with the filing of the United States began to carry out provocative steps continuous replenishment of its armed forces deployed near the Russian borders (in Eastern Europe and the Baltic States), all a large number of weapons and military equipment. The steps that many analysts and commentators have dubbed the beginning of a "new phase of the cold war, led by the West against Russia."
Comments
comments