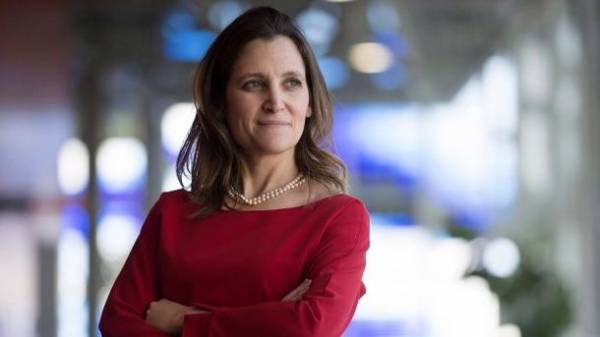 Canada strongly condemns the illegal annexation of Crimea by Russia and stressed the importance of maintaining international pressure on Moscow, as well as the preservation of sanctions against her until then, "while Russia will not respect international law and sovereignty of Ukraine".
"Today is the three year anniversary of the illegal annexation of the Crimea by Russia. We strongly condemn the violation of the sovereignty and territorial integrity of Ukraine. … Canada strongly supports the Ukrainian people. Together, the international community must continue to exert pressure, including through economic sanctions, until then while Russia will not respect international law and the sovereignty of Ukraine", – reads the statement of the Minister of foreign Affairs of Canada Christi Freeland, released on Thursday.
The head of the canadian foreign Ministry said that since the occupation of the Crimea Peninsula, there are serious human rights violations, including the ban on expression of opinion and freedom of Assembly.
The foreign Minister of Canada also added that Ottawa is deeply concerned about the ongoing harassment of human rights defenders, journalists, lawyers, arbitrary detention and persecution of Crimean Tatars and other national minorities. "We condemn the ban of the Mejlis, the self-government body of the Crimean Tatars, and call on Russia to reverse this illegal and immoral decision," said Freeland.
In his statement, the Minister also pointed to the fact that Russia prevents the access of the international mission for monitoring the observance of human rights and other international human rights groups on the Peninsula.
Comments
comments