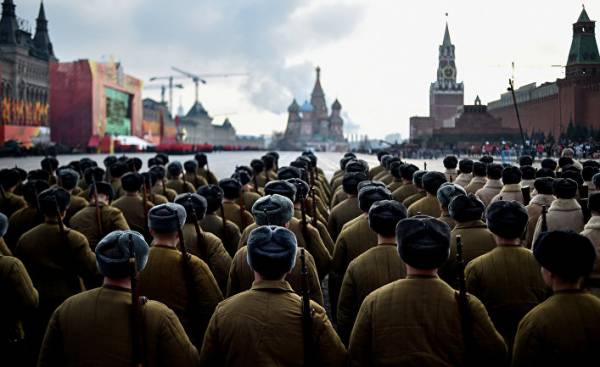 As the world tensely awaits the following Donald trump, the mystery of another leader Vladimir Putin is growing.
Next year in Russia should be a presidential election, and few people think that the current despot will be competitors.
"Our country has a long history of charismatic leaders and kings, and I believe that this is the future of Russia", — says Mikhail Vishnyakov, chief editor of news program "Today" on the Russian TV channel NTV.
"His power is immense, because the country is huge. Perhaps he is not the best option possible, but this is the best choice. This is a man who can lead the country to its goals and to do the best for our economy."
These words about Vladimir Putin come with a few unexpected side. Forty Mikhail Vishnyakov, pronouncing them, — chief editor of news program "Today" television channel NTV, which used to be called "Ostankino". Think journalist would be more critical of the President, who has been in power for decades and has been in office since 2000.
Not the opposition
On the other hand, most of NTV belongs to the state power company "Gazprom" since 2001, when the former owners started having problems with the Russian authorities in connection with open criticism toward Putin. Mikhail Vishnyakov appeared there a year later, and today works on the channel for 15 years, so he is not exactly an opposition activist. There is no doubt that any opinion about Putin stick to his employers at NTV, where each step is supported by President praising propaganda.
Mikhail Vishnyakov is the father of two young children: Sofia four and a half years and one year old Anna. They 37-year-old wife Elena Titova live in the Moscow suburb of Mytishchi, a city with a population of nearly 200 thousand people. Since the heyday of the Soviet Union, there were three plants: a brewery, a plant for the production of trains and plant for the production of polymer building materials. Everything else was closed, "all the dead after the collapse of the Soviet Union", said the taxi driver, who drove us to the multi-storey building where the family lives.
The furniture from IKEA
But no, not quite everything. The house in which Michael and Elena bought the apartment, built in Soviet style in 1983: narrow corridor and small rooms. The family has updated almost everything since you moved in three years ago. The furniture from IKEA carefully picked. Large washing machine turns the bathroom into a cramped maze.
The couple believes that they are all excellent. Together they make 250 thousand rubles per month, which corresponds to about 38 thousand kroons. Michael is a journalist, and Elena working in the field of PR. They can send money to her parents who live in the provinces, far from Moscow. The pair calls themselves "typical Russian middle class."
"Although that now there are "typical"! But we make money and can pay the mortgage. In our country a person is considered independent if he is able to pay its debts", — says Mikhail.
Hours spent on the road
Typical they that once had children, just moved from Moscow. To live in the cities where they work, it is almost impossible for families with young children, many, starting a family, moving in with parents. And hours you get to work in the capital and back.
Whether they are satisfied with their life in modern Russia?
Michael some time thinking.
"I grew up in the Soviet Union, so I can compare. A capitalist society makes us stronger, but in some sense jestokosti. We work to earn money, fighting for a career and not much time to dedicate to the family. In Soviet times, we were confident that the state will always provide a minimum of life, even if you yourself no effort is attached. Earn more was not, but could spend more time with family".
Runs the country with an iron hand
Putin's rule is named differently. It is no secret that he together with the party "United Russia" runs the country with an iron hand. This is especially experienced leaders of the opposition, investigative journalists and neighbouring countries. But Michael believes that the style of Putin's rule is positive.
"Our country has a long history of charismatic leaders and kings, and I believe that this is the future of Russia. We have a future, if the country will manage a strong charismatic leader," says Michael.
"Catastrophe"
He compares the present with the period of Boris Yeltsin in the 1990s, when oligarchs could afford to buy power in Russia, and calls a time when US influence in the country has increased, "catastrophe."
"Now we want to see our country stronger, we don't need the Western way of life. We want to live on their own, and we continue to seek the right path, the one that will suit our country."
Elena interjects:
"If Russia in a reasonable manner will show his power, other countries will realize that we are a great power, which is not to be feared. Now against Russia is an information war, and the idea of the us surrounding world does not correspond to reality".
Sounds like trump
I say that their words are somewhat reminiscent of trump's words, when he talks about the need to put in the first place America. Michael agrees.
"In the United States now the crisis, they were a powerful country and wanted to solve everything for everyone. Now their new leader says that first they must think about yourself. I think it is good. And we, Russian, want, that Russia became too great."
But Russia and the United States, for example, involved in the war in Syria?
"When we are fighting for Syria, we, in fact, fighting for Russia. Many members of ISIS (a terrorist organization banned in Russia — approx. TRANS.) come from Russia, but they can come back and get the attacks. The Soviet Union and Syria have always been very close, of course, we help your ally," says Michael.
No one believes in the opposition
Both do not believe that any opposition could take power away from Putin's "United Russia".
The fact is that most attempts to raise the opposition or to criticize the Kremlin ignored. So, for example, was killed by Putin criticized the liberal Boris Nemtsov in 2015.
Charges of embezzlement against the opposition leader and corruption fighter Alexei Navalny, who, apparently, take away his ability to compete with President Putin in future elections, is another example.
"Those who started the change, must be able to complete them. Putin comes, he is strong and dedicated to his job, he will help us to find the right spot. No one opposition leader has no support. Go to the countryside — Yes, they're don't even know who Navalny!" — says Michael.
"I like Putin"
Neither Michael nor Helen are not sure whether to vote during the presidential elections next year. Michael doesn't believe that his voice will play a role. Elena says that he is going to vote, but do not know for whom.
"I like Putin, I think he's good. Copes with everything, for whatever undertook," she says.
The same answer we get from the family of Cherkessk, which is South of Russia. They arrived in Moscow to visit and walk on red square.
"We are a strong country, Russia can help you, the Europeans, if necessary. We trust our President, he is well educated, and we will be glad, if elected again," says physical education teacher Oksana Kokhan, 43.
Worried about Europe
Her husband, Vladimir Losev, 55 years old, says that worries about the situation in Europe and the Middle East.
"I would like to show my kids London, but after Breccia Europe seems to be divided," he says.
As for the United States, he, on the contrary, believes that this country will become much stronger with Donald trump.
"He's a different policy than Obama. For us I think it will be better."
"Afraid Of Russia"
When we ask the question Muscovite, who lives and works in the capital, everything sounds a little different.
"Because of Putin the world disliked us, now people are afraid of Russia. I don't like his policy towards other countries," — says Nadezhda Belyaeva, 53, a teacher of German language in Moscow.
In addition, it raises another question:
"I think that another presidential term for him would be superfluous. If he can do it all?"
Published article removed
A similar question was asked Valery Solovey, a Professor at Moscow University of international relations, in an interview with the newspaper "Moskovsky Komsomolets" last fall. His theory was that if Hillary Clinton won the U.S. presidential election, Putin, who can't stand it, could take place in Russia early elections and put in his place someone of the footmen. Because 64-year-old President himself would be unable to cope with the escalation of relations with the West. Apparently, this reasoning has angered the Kremlin, because the article was quickly removed.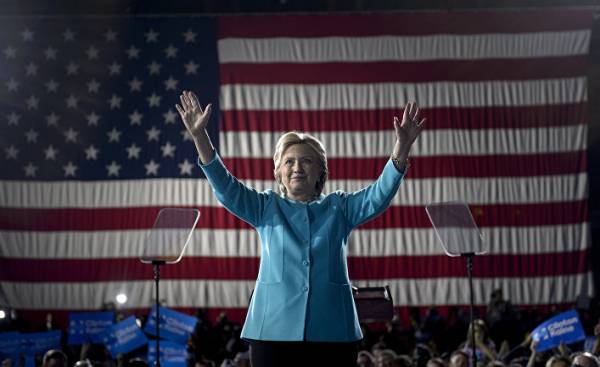 © AFP 2016, Brendan SmialowskiКандидат for US President Hillary Clinton
"That was unexpected. As I understand it, the article was removed at the direction of the Deputy chief of staff. But from the point of view of PR to clean up this article was a mistake, because it only attracted more attention," — said Valery Solovey, during our meetings in cafes, which, ironically, is located directly opposite the building of the Russian security service the FSB in Lubyanka square.
The FSB, which was once called the KGB, was the place of work of Vladimir Putin from the 1970s until 1991.
Can you believe
The Nightingale is known for having several times the predicted actions of the Kremlin, and he can be trusted. We talk about Putin's image and that Donald trump as the new President of the United States speaks vaguely about their future relations with Russia.
"All were terrified that Clinton will win, she hates Russia. Now, with trump, the future is uncertain. No one here believed he could win. It is considered a chance for Russia, if he wants to establish positive relations between our countries, but it is unpredictable," says Nightingale.
Russia is unlikely affected
The Professor thinks that the Kremlin had the opportunity to influence American elections, as do many other experts, as well as American authorities. He also does not think that Russia can significantly affect the elections, which will be held in many European countries this year, despite the various reports and warnings.
"Time and patience are the best allies of Russia. The fact that the Western world is in crisis, opens up a space for propaganda and the like. Well, you can create the impression that Russia has influenced American elections, the Russian authorities use propaganda, hacking and stuff, but to actually influence the election, lacked the technical knowledge".
He mentions the visits like that last week caused the Swedish Minister for foreign Affairs Margot Wallström (Margot Wallström), and says that the Western world is already beginning to return to Russia to improve relations after the annexation of Crimea, and this is what the Kremlin and waited.
He likes it
Nightingale believes that Putin and the Kremlin had made with the elite of the country agreement under which it will retain its place until the oligarchs will be left alone. The annexation of Crimea in 2014, Putin showed that Russia — a great country that can retaliate with the threat.
"Putin is very much like the way Western media describe it, he's enjoying it," says Valery Solovey.
He believes that Putin, regardless of whether he will again run for the elections or not, will continue to manage Russia after the elections — by the hands of the heir. The most likely candidate from Putin, Dmitry Medvedev, who in 2008 was appointed Putin's successor as President in 2012 in a humiliating manner gave up the presidency in favor of Putin.
"If Putin himself would not run, the most likely candidate for Medvedev. Putin trusts him. In this sense, Russia is predictable," he says.
Propaganda is not enough
Perhaps there will be stronger opposition, as it was during the protests in late 2011 and early 2012, but after the Duma elections last year, according to the theory of the Nightingale, is not strong enough to reach the presidential post.
"People are very tired from the crisis situation caused by the sanctions. We want stability and a normal life. Many are angry that there is no improvement, high inflation, poverty. Indefinitely one propaganda to compensate will not work."
Comments
comments