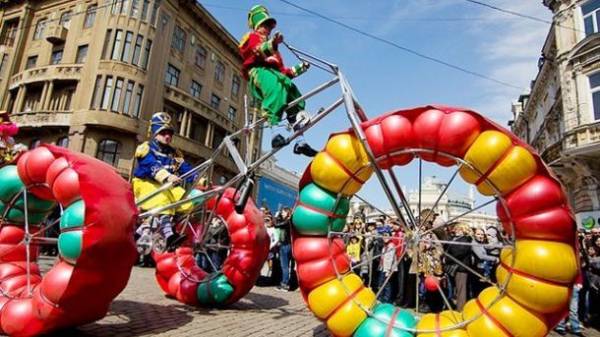 Odessa ready to offer visitors a variety of interesting ways to relax at any time of the year, as the hot summer months and in winter. However, in terms of price gains hardly the best season for the trip – the first months of spring, while prices had not yet risen, and the weather is favourable for walks and excursions.
Where to go?
The trip to Odessa in late March-early April is a good opportunity to enjoy the freshness of the sea before the start of the high season, thus saving money on accommodation. Prices for daily rent in the first week of spring has not yet managed to rise to the level of resort months, but the poster of the events of the city will delight tourists – April 1 in Odessa will begin the annual spring festival of laughter "humor". Renting an apartment on Deribasovskaya street or near Primorskiy Boulevard, You can out on the street to watch the parade of humor, which will be held during the festival. If you come for a day or two early, will get the opportunity to visit the international festival of clowns and mimes "Komediada" – the event starts on March 30.
Features of rent of accommodation for rent
Rent apartments in Odessa in March-April are less in demand than during the high season. The owners are more loyal to the terms of the lease. But, the best accommodation options nearby locations, which will be held on "April fool's day" and other interesting events will be booked a few weeks in advance. However, You can rent an apartment for a couple of days before arrival if the accommodation centre is not important to You.
The main softening of the conditions of tenancy in March-April will be that the owners do not provide for minimum rental period. If in July-August apartments for rent in Odessa shall be not less than 3-5 days, then in early spring You can rent even for a day or two.
Prices on apartments
In March-April, apartment for rent in Odessa for 2-3 people will cost 300-400 hryvnia per day. One bedroom apartment for 4 people will cost at least 400-450 UAH per day, and bedroom with 5 sleeping places will cost 600 UAH per day. When booking will need a Deposit of one night cost. Separately you can pay for extra beds, early check-in and late check – out- reports Miete.com.ua/Odessa.
Many owners will gladly provide discounts for regular customers and those who wish to stay for at least 5-7 days. So if You decided to arrange a complete vacation and You have friends landlords, which are already in rented accommodation, probably can save some money.
A visit to Odessa in the spring may be not less interesting than during the high season, and will be clearly advantageous from the point of view of the cost of rental housing. Therefore, choose a comfortable place to stay in town and go for good impressions to the sea!
Comments
comments