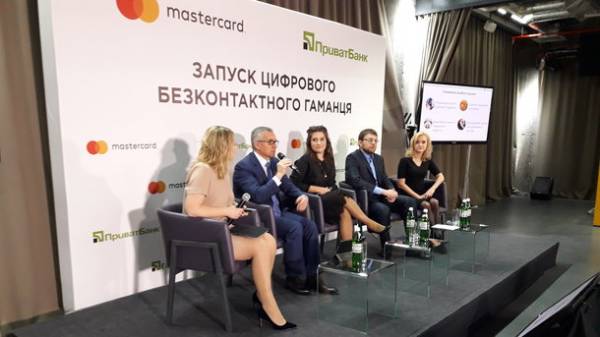 On March 14, the company Mastercard and PrivatBank has announced the launch of contactless digital wallet. Now 5 million of the Bank's clients who use mobile banking service Privat24, were able to almost instantly and securely pay with their smartphone wherever installed POSterminal that supports contactless payment for Mastercard. According to the NBU this opportunity have more than half of the existing in Ukraine's terminals. In particular, using a smartphone is now possible to pay at vending machines, Parking meters, gas stations, to pay the fare in public transport of Kyiv.
"Three years ago I would not have believed that our power to realize such a project – said the head of the Board of PrivatBank Alexander Shlapak. – However, cooperation between the Bank and Mastercard has borne fruit: innovation, which recently seemed fantastic, was included in the daily lives of our citizens". According to Alexander Shlapak, the Bank is not going to stop there. The most popular in the country Privat24 mobile banking in the near future will be the base for the development of national and regional digital services, such as e-ticket, citizen card, etc.
Contactless payment has become the basis for most of the global payment solutions. According to Vera Platonova, CEO of Mastercard in the Ukraine, Moldova, Georgia and Central Asian countries, 77 countries more than 5 million retail outlets carry out contactless payments. And Ukraine has become one of the fastest growing markets, where the use of such technology. "Our primary mission in Ukraine – a world without cash. PrivatBank became our strategic partner on the way to the goal. I admire the mission that bears the Bank's technological, innovative leader, actively increasing technological literacy among their clients. Thanks to his efforts, Ukraine has become one of the leaders among European countries in the number of terminals contactless payment," said Ms. Platonov.
Currently, NFC wallet available for mobile devices running on the OS Android 4.4 KitKat (and above) with an NFC chip. To use contactless payment technology, users need to install and activate the NFC payment application Privat24. At the point he will bring an unlocked device to a payment terminal.
Comments
comments