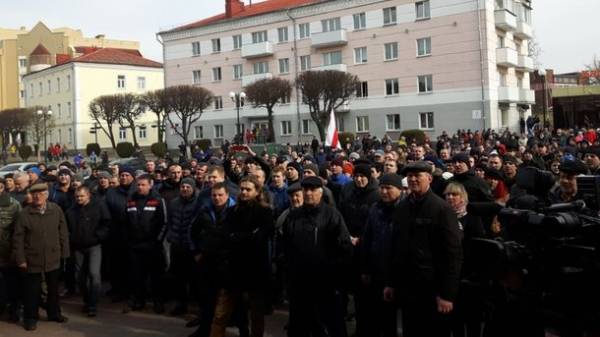 Belarus police detained a number of oppositional activists and at least three journalists in connection with the ongoing demonstrations against the decree of President Alexander Lukashenko "On prevention of social izhdivenchestva", reports "Radio freedom".
On 12 March, the arrests were carried out in Orsha in Eastern Belarus. Among the detainees – Paul Severinets, one of the founders and former leader of the youth organization of the BPF "Young Front". Short was detained the correspondent of the Belarusian service of Radio Liberty.
Blsu, Tysyacha chalavek "Marshy nedermed" Worse. Akcija achalasia I skonchalsya satrumardan FOTA, VDAA #дармаедыhttps://t.co/fzL6NazyF2 pic.twitter.com/HGKC2aZdy9
— Radio Svaboda (@svaboda) 12. März 2017
Sotn Luza have Worse scandust "long live Belarus!"#darnaedi pic.twitter.com/rncZYlD3D0
— Radio Svaboda (@svaboda) 12. März 2017
We will remind, the decree "On prevention of social dependency" establishes the obligation of citizens of Belarus, permanently resident foreign citizens, persons without citizenship, who was not involved in the financing of public expenditure or participating in such financing less than 183 calendar days, on payment of a fee in the amount of 20 basic units (one basic unit is 12 dollars).
For non-payment or incomplete payment provides for the imposition of a fine in the amount from 2 to 4 base units or administrative arrest with obligatory attraction to performance of community service. According to the Ministry of taxes and levies, as of February 7, "Tunitskii fee" paid only every tenth of obliged to do it.
Comments
comments