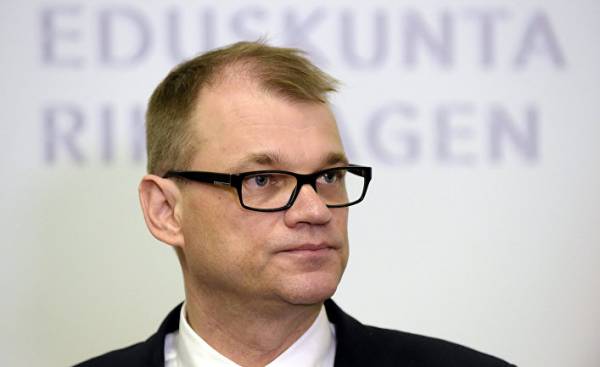 The Prime Minister Sipilä (Juha Sipilä) said he accepted the challenge Katariina Raikkonen (Katariina Räikkönen) and international human rights organizations Plan to celebrate the equality in the Palace of Tampere.
The transfer of power will take place on the international day of the girl child, October 11.
This challenge is part of the action Girls are taking over the international organization Plan: offers youth politicians to share his post on one day.
"This is very important because women leaders are much less than men. I dream to be a Director when I'm an adult," says Raikkonen in an interview with the newspaper Aamulehti.
The goal is to demonstrate the capabilities of girls, and, on the other hand, show their oppression.
Last year the girls Plan organization performed the duties of the President of Nepal, Minister of education of Egypt and the canadian Minister of women's Affairs.
− Katariina Raikkonen, what are you going to do when you become Prime Minister?
− Well, we'll discuss this more later, but I would, as Prime Minister, to raise issues that are important to me. For example, attention to the youth and issues of sustainable development, a better world for future generations, equality.
− I would like you to do something specific?
Probably I would ride in the car of the Prime Minister. And I would like to do some meeting − laughing Raikkonen.
According to Raikkonen, Sipilä was very encouraged by the proposal for the transfer of power and promised to talk with other Ministers.
− So, maybe October 11 in Finland will be the maiden government?
− Would be great!
− Original idea to challenge the Prime Minister arose as a joint idea of the children of the government organization Plan. How did you manage to implement this idea?

− We thought, who could challenge and accidentally collided with the press Secretary of the office of the State Council. He promised to discuss this question, and in two weeks we have already agreed on everything.
Katherine Raikkonen lives in Raisio and goes to ninth grade.
− What are your plans for the future?
− I don't know what I'm gonna be when I grow up. Want to do something serious in the international sphere. Would like to save the world — here is the correct answer!
Comments
comments