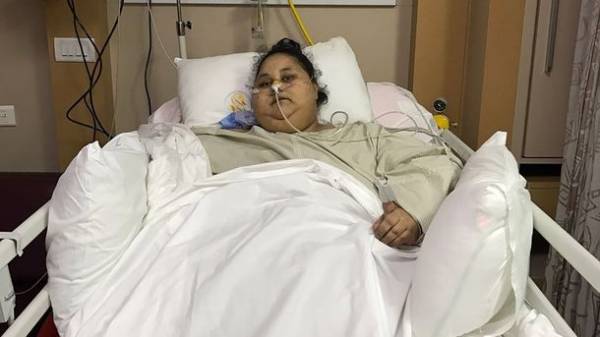 Indian doctors have successfully operated on the Egyptian eman Ahmed AB El ATI, which is considered one of the heaviest women in the world. This publication reports the Hindustan Times.
With sleeve gastroplasty surgeons have reduced the amount of stomach eman Ahmed 85%. The operation will help her to limit the amount of food consumed and lose weight.
"As soon as her condition stabiliziruemost, it will come back to his hometown and continue to lose weight under medical supervision, explained one of the professionals involved in the treatment of women. — Her weight has decreased by 100 kg, thanks to a liquid diet, rich in protein and dietary fiber, and we hope that over the next six to eight months it will drop another 100 pounds."
We will remind, in February, 36-year resident of Egypt was taken to India for treatment from obesity. When she arrived in hospital, her weight was about 500 pounds. Because excess weight the woman has lost the ability to move and more than 20 years did not leave his house.
Comments
comments