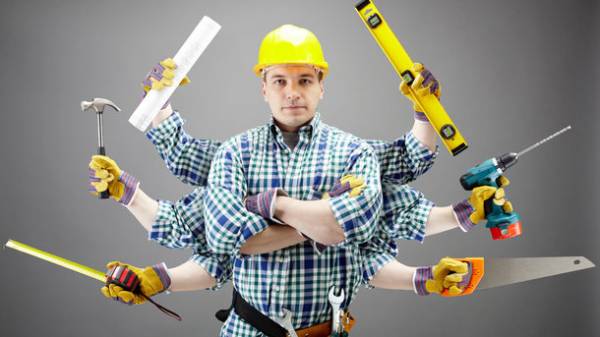 Many Ukrainians, especially in a crisis, keenly value their time — it's money. So for busy people the very pertinent issue of comfortable and quality solutions to everyday problems — especially when it comes to dry cleaning, Shoe repair, painting leather jackets. Accordingly, in order not to run the district in search of a good expert for solving a particular issue, for customer is more convenient to solve all problems in one place — the so-called point of reception and the provision of household services. "Previously, these problems solved in home life, because in one building housed the workshops for the repair of boots, shoes and small appliances, dry cleaning and dyeing clothing, etc. Now these services are, as a rule, you can get at different points and often narrow problem, for example, replacement of buttons on a winter coat to decide for a long time, since it is difficult to find a master. In such a situation, popular among residents of large cities can be starting point of consumer services, because the demand for these services among the population is very high," — says the head of the franchise Association Andrey Krivonos. So "Today" has studied the prospects and risks of running a similar business in Kiev.
The point of the decision of household problems business plan
1. Project description
Opened in Kiev the point of solving everyday problems. Offer your customers repair of boots, shoes and clothing, dry cleaning, dyeing leather accessories, manufacturing of keys, repair of small appliances, etc. This means that our client will be able to leave clothes, shoes or equipment. And our representatives, in turn, will indicate the damage the list of activities and the timing of the return of the goods to specblank order. After things are delivered to partners, who will directly repair shoes or to wash clothes, etc in the stipulated time frame the client will get the job done. Customer orientation — quality of services in one place, benefit by the influx of new orders, our profit — generating income as a percentage of the service cost. According to calculations, if every day from providing personal services earned UAH 2700, our project will pay for itself in four months.
2. Start-up capital
First, we need to buy furniture. In particular, we need a couple of tables and chairs, a safe for documents and money, cabinets or racks for storage of clothing and equipment customers, etc. it all lay 20 thousand UAH.
TECHNIQUE. From the equipment we needed two laptops, a printer with a scanner, a modem for Wi-Fi, video camera, alarm system, two mobile phones etc. will Also need a kettle and a microwave. Will try to meet 40 thousand UAH.
EQUIPMENT. Purchase the equipment for the manufacture of keys, as this needs urgent. For the purchase of the machine, blanks for conventional and syrups, other PRUFTECHNIK and simple tools (screwdrivers, hammers, pliers, etc.) will consider of 30 thousand UAH.
3. Current expenses
Rent 30 sq. m room to repair troyeschina will cost 5 thousand UAH. On the Internet, mobstaz, utility services, the monthly fee for alarm lay 2 thousand UAH. Another 1000 UAH will be spent on tea, coffee, equipment maintenance, stationery, detergents, etc. For the purchase of blanks and other necessary small things will put 5 thousand UAH. A total of 13 thousand.
TEAM. Need 2 inspector who will work in a day (a rate of 400 UAH/day). Part-time will also need a cleaner (2000 UAH) and the accountant (3000 UAH). Take the masters for the production of keys (6 th + % of orders). Also need remote master to challenges, eliminating minor problems — electrical, plumbing (rate of 6000 UAH + %). The owner will be the administrator (7 thousand UAH). A total of 36 thousand UAH per month.
TOTAL: 49 thousand UAH per month.
4. Marketing, advertising
To the point of bytuslugi need representation on the Internet. Create an online version of point of reception, where we will specify the list of services, their price, contacts and location map. On the card website, hosting, domain and tech support for a year will lay 8-10 thousand UAH. Create pages on Facebook and Instagram — we will come up with promotions, bonuses, develop a system of discounts. We will post announcements about the services in online Newspapers and on the stock exchanges-skidochnye. In addition to online promotion, we will get acquainted with neighbors in the real world: print business cards, flyers, ads, go around the nearby housing estate and tell the representatives of condominiums about our start. Talk to owners of small hotels and hostels: it can increase the orders.
TOTAL: 10 thousand UAH at the start and 5 thousand UAH per month.
5. The payback of the project
Item service life earns at the expense of % of the order, who as a reward for each customer paid by partners (workshops, dry-cleaning). It can be from 5% to 30%. Direct income is generated through production of duplicate keys and challenge customers at the master's house. Suppose every day 8 people will leave us and the average reward will be 200 UAH. In addition, we will make 4 duplicate keys, for 50 UAH each. Finally, 300 UAH per day will come from one call of the master of the house (those expected to 3 per day). Total: earned 81 thousand UAH per month. Minusuem current (49 thousand) and marketing (5 million) expenses (54 thousand) and received 27 thousand UAH. That is, when starting (90 thousand) and marketing (10 thousand) investment (100 million) the project will pay for itself in 4 months.
Partnerships and logistics
In this business, it is important to build all the logistics processes, experts say: points of reception and service life are the link between customers and the contractors. Therefore, it is important to start to consider the location where to start a new paragraph. "It is desirable to open in the new districts, where only creating a social infrastructure, and therefore there are no markets and the other Islands with the availability of different services. This gives you the opportunity, as they say, "hammer place" in the created niche consumer services and immediately find the target audience, thus ahead of competitors", — explains Andrey Krivonos. The expert notes: for a business startup it is important to make a list of services based on the needs of the local population. For this we need to walk the neighborhood, chat with the locals, ask what they need in everyday life Shoe repair, painting leather goods, dry cleaning things, etc. "Such a survey will form a base under the needs of district residents and will also allow to study the situation on the ground — is there any competitors, what types of services represent quality, whether it is work, what is the pricing policy. All of this is important for formation of the subsequent business strategy of the item of household services," says Krivonos. And already the basis of a set of services, you can search for new project partners who will repair things and devices customers. "It is desirable that these shops were not very far from the new item, as it will affect the time and cost of transport orders back. Can I have a word with the major networks, and you can look for small but high quality manufacturing base. The result of this search and generate a list of business partners already will depend on how to organize logistics. Because to take the orders and the performers are networkers, because they must have available own transportation. But if we are talking about a small performers, then transportation expenses may have to share," continues Sergeant.
Looking for regular customers
Market participants are advised not to concentrate exclusively on private clients, because they can not become the backbone of a constant flow of customers. To ensure that orders for equipment maintenance, washing of linen, cleaning things became in high demand, you can pay attention to the corporate sector. "The fact that in large cities there are many small businesses, which may include mini-hotels, hostels, coworking, cafes and other facilities, which require constant cleaning, washing, repairs, etc. For these purposes, these entrepreneurs can hire a special person to decided small household problems, or agonize over where to find a particular master. And if these representatives of the corporate sector to offer solutions to everyday problems at a reasonable price, this option they obviously like it, because it will be solved very large block of economic issues,"
reads the owner of a small workshop for repairing clothes in Kiev Natalia Litvinova. According to her, in the course of such negotiations with the owners of micro-businesses should not fear competition from large chain companies because their services are usually much more expensive. In addition, large businesses are mainly of interest to large customer in the form of hyped restaurants or hotels, so the "chasing small-time networkers are unlikely to be".
CONTRACT. The point of reception and the provision of household services is a customer-oriented business, so it's important to establish contacts with people, experts say. Therefore, taking orders from customers is organized correctly, advises Natalia Litvinova, so there will not prevent a special order form. "The form should be indicated the required information: client data, the terms of the order, it gets your work, what processes will be conducted, whether there are flaws in the object, etc. All this information will simplify the work of the contractor and the customer to obtain the expected result. Also note in the order form will help save from problems later, if the customer not satisfied, because all the source data has already been specified in the form", — said Litvinov. It is also important to teach the team the basics of a competent taking orders, because people can come into a household item with absolutely different tasks. "One need to replace the insoles on the shoes, and the other is to bring specific spots with blankets. In all cases, the specialist must correctly advise the client and give good advice — they say that shoes can be repaired, but to restore woolen blanket will not work because of zastarelosti spot", — said the businessman.
Focus on rare services
In order for the new business project has been a success — you need to stand out from the crowd like at least a list of consumer services, says Andrei Krivonos. This means that, in addition to dry cleaning, Shoe repair or painting of leather accessories, to offer the people and the associated services is less popular, but which may be required at any time. "It may be, for example, replacing buttons on clothing, suitcases or umbrellas repair, repainting leather goods, etc. in addition, it is useful to provide services for the repair or prevention appliance," says Krivonos. Moreover, if the kettle or the microwave, customers can bring in an item for repair, to bulky goods in the form of a refrigerator or washing machine will require the departure of the master on the address and it is desirable that this service has been in the service list a household item. "This is important because the problem of breakage of the machine can be as simple as: probation, children's sock clogged drain in the unit. Then you need to disassemble the machine, pull the sock out of the drain, and assemble the unit again. The decision of the question may take a total of an hour and a half. The service can cost 400-500 UAH. So why give this order to someone from competitors if it can run the wizard from your item of household services?", — says "master of the hour" from Odessa Evgeny Goloborodko. According to him, the Wake field master may be in demand in the household item as a multi-specialist can not only repair appliances, but also to perform the work including replacement of plumbing or electrical wiring, as well as to carry out minor repairs. "It happens that people urgently need to solve small economic problem, for example, to replace the current kitchen tap, but where to find such a specialist in panic not understand. But if you have hand phone item solve everyday problems and works there proved a master — as a rule, the problem is solved quickly," said Goloborodko.
Comments
comments