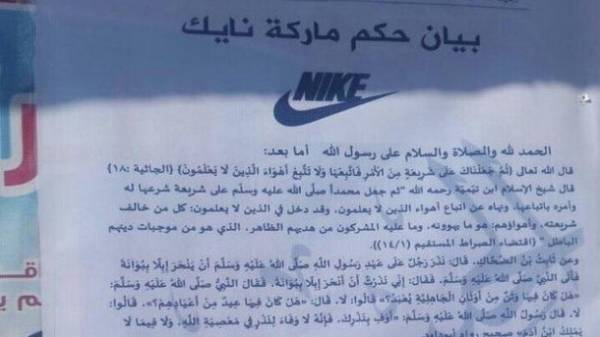 In the "Islamic state" has completely banned the sale and wearing the products of Nike. About it reports TJournal with reference to Pro-Syrian publication Al-Masdar News.
According to the terrorist group ISIS, Nike is the goddess of victory in Greek mythology and it means Haram and apostasy. On the situation reports and Jinan Moussa, reporter for Arabic Al Aan TV, usually exposing the fake statements of the LIH.
Last week, ISIS banned brand sportswear @Nike. Now Nike introduces new line of sports hijab for Muslim women. Go Nike. pic.twitter.com/ekrp8vhmpn
— Jenan Moussa (@jenanmoussa) March 7, 2017
The statement linked to plans for Nike to release a special sports hijab. It was developed after complaints of Olympic athletes from Muslim countries to the inconvenient conventional scarves that fell and prevented the exercise. It is reported that in the development of equipment involved female athletes from Muslim countries, including figure skater from UAE Zahra Lari.
Yesterday the terrorists of the ISIL claimed responsibility for the attack in Kabul, which occurred March 8. The attack killed 49 people, and another 76 were injured.
Comments
comments