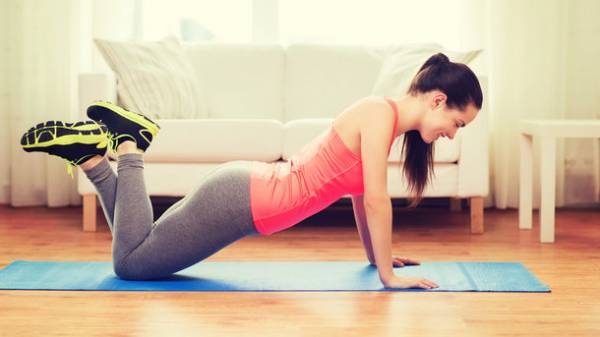 The sport has been gaining increasing popularity as it helps to gain not only good health, but also the shape of dreams.
With the arrival of spring I want to get rid of the consequences of the holidays and to get myself together to prepare the body for summer. If at work and household chores you do not have time to visit the gym, exercise at home.
NV STYLE collected 10 Youtube channels, where experienced fitness trainers, stretching, yoga and dance share the simple and effective exercises.
Mytrainerbob
The author of this channel is a popular American Bob Harper, the trainer of the program The Biggest Loser and author of books on harmony. In their commercials, Harper shares not only exercise, but also reveals the secrets of effective weight loss.
BeFiT
This channel will be useful for those who like variety in sports. Here you can find collections of different trainers and disciplines. In addition to fitness and yoga, can devote time to the classes of body ballet, directed on formation of strong and flexible legs, graceful posture and beautiful waist.
Blogilates
For fans of Pilates have a great channel that leads certified coach Cassie Ho. Another benefit of a page – split into playlists, which contains exercises only for arms, legs, the press and for beginners.
TaraStiles
Channel American Tara Stiles great for home yoga practice for both beginners and professionals. The girl has rich experience in teaching, so anyone who wants to try yoga, welcome to the channel.
Superherofitnesstv
If you love to dance – this channel is for you. The athlete and the dancer will show you how to keep yourself in shape and lose weight with active rhythmic exercises. And if you add your favorite music, these classes also will certainly raise the spirits.
Tone It Up
A famous American fitness bloggers karena Dawn and Katrina Hodgson share exercises for a perfect figure. The channel is very convenient, because all the videos are structured by systems for arms, legs, abdominals, buttocks and even has tips on nutrition.
Bowflex
Experts channel offers special complexes of exercises for those who have little free time. Short but intense workouts are aimed at burning extra pounds and form a beautiful relief.
XHIT Daily
On his channel he is an experienced trainer Rebecca Louis offers a variety of exercises, including more and popular among stars of show business. Girlfriend offers to repeat the favorite exercises of Mila kunis, Beyonce, Jennifer Lawrence, Natalie Portman and others.
BodyRock
This channel is ideal for those who want to quickly get rid of excess fat. Here are many exercises for interval training of high intensity, which will force to sweat and, subject to proper nutrition, to obtain a beautiful figure in a short time.
Amanda Russell
Experienced fitness trainer not only offers a short set of exercises, but also shares tips on proper nutrition and the secrets of quick weight loss. Here I collected information that will help to get in shape for beach season.
Comments
comments