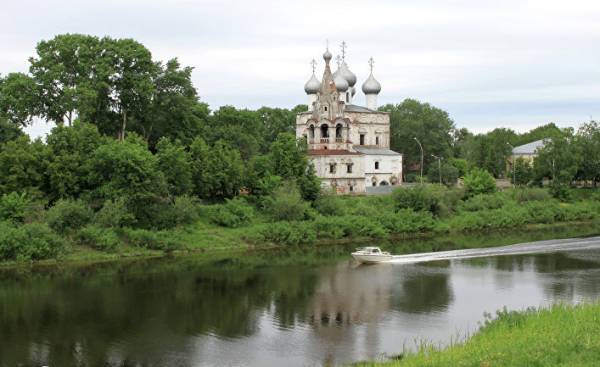 Zibo, Shandong province this year on March 8, international women's day, was in some way a very special celebration for grandma Nina, or Liu Malang — Chinese grandmother who was born from mixed Russo-Chinese marriages in Russia, but for most of my life in Zibo, East China's Shandong province.
On this Sunny spring day Nina after 84 years of separation for the first time received news from his native land — the Vologda region.
Letters from their native land
"I didn't expect to get letters from countrymen. Very thankful that they still remember me" — with excitement and gratitude Nina said.
Before the Chinese Spring festival, Xinhua news Agency has prepared a series of articles about Nina, who was born in 1926 and up to seven years lived in the village Vishnevo Nikolsky district of the Vologda province.
In a small country the story of Nina greeted with great warmth. Children from several local schools sent my grandmother a letter and a gift made soft toy — cock. These gifts along with a letter from the Governor of the Vologda region Oleg Kuvshinnikova was sent to China with the mediation of the Xinhua news Agency.
March 8 the administration of Zibo city held a solemn ceremony of handing over the NIN letters and gifts from Russia.
"We understand that our desire to talk with You personally feasible, but You may remember their native land at least occasionally," the listening to the text of the letter with pictures of his village Vishnevo, grandma Nina was moved to tears.
"Maybe photos of our region will remind You the happy childhood", — said in a letter to students vishnevskoy school her grandmother Nina.
"Very much changed Vishnevo, it is hard for me to learn," says Nina, looking at the pictures.
"You left Vologda oblast more than eighty years ago, but still retained a love for the native land and culture. It is felt in the melodies of our folk songs which are in Your performance are extremely soulful and melodic," writes in a letter to the Governor of the Vologda region Oleg Kuvshinnikov.
From China with love
On 8 March, the Deputy Governor of the Vologda region Oleg Vasiliev specially sent Nina a festive greeting: "on this wonderful spring day from the distant Russia, we want to congratulate grandma Nina — a man about whom the whole Vologda oblast recently with great surprise and pleasure that I learned. Very rarely it happens that of his countrymen and compatriots to find or hear about them through many years."
During the ceremony of handing over letters and gifts Nina wrote a letter to the government of the Vologda region and local children. "Thank you. I love you!" — with these words, grandma Nina expressed her gratitude to the countrymen.
Vishnevskii children in the letter Nina wrote: "their homes are always open for You! His countrymen to visit, visit!" And my grandmother Nina expressed such a hope: "Guys! Well learn and come to China!"
Along with the letter to Nina, the local government as a gift sent to the administration and the schools of the Vologda region ceramic plates in China. The food in the dishes served at a Banquet in the framework of the APEC summit in Beijing in 2014.
To countrymen grandmother learned about her life in China, the local government sent a picture of Nina in Russia.
Happiness on "exile"
Nina was born in the Soviet village Vishnevo Vologda province in the Russian-Chinese family in 1926. Her father was a Chinese merchant from the city of Xingtai Hebei province (Northern China), mother — Russian (Lydia Koritseva).
In 1933, at the age of seven, Nina, along with his parents moved from the USSR to the city Or the Chinese Xinjiang. Here it is two years, went to a Russian school. After moving to China Nina never returned to Russia.
At age 17 she met a Chinese officer Liu Chunshu and then married him. In the same year, my husband chose for Nina Chinese name — Malang, a special kind of Orchid — Cymbidium Chinese, which in Chinese culture symbolizes nobility and purity.
After the proclamation of the people's Republic of China Nina and his family settled in the native land of her husband — in the village of Mansiche village, Nanding area Chandani Zibo city Shandong province. Here she lived for 66 years.
Well-educated Liu Chunshu taught Nina to write Chinese characters and sing songs and poems of the Tang dynasty (618 — 907 ad). Still any work cheerful and hard-working grandmother makes singing.
The Vologda region administration also promised to help find information about Nina and her mother Lydia Karicevog notice that to find any relatives of Nina because of old age will not be easy.
"Your fate is a vivid example of a long friendship between the peoples of China and Russia", — wrote in a letter to Nina Governor of the Vologda region Oleg Kuvshinnikov.
The story of Nina caused a great resonance not only in the Chinese media, but also in the Russian press. Since Nina loves to sing the Soviet song "Katyusha", in China it is already called Chinese "Katyusha". If you know anything about the Russian relatives of Nina and loved her family, please write to us in edition to Xinhua: [email protected]
Comments
comments