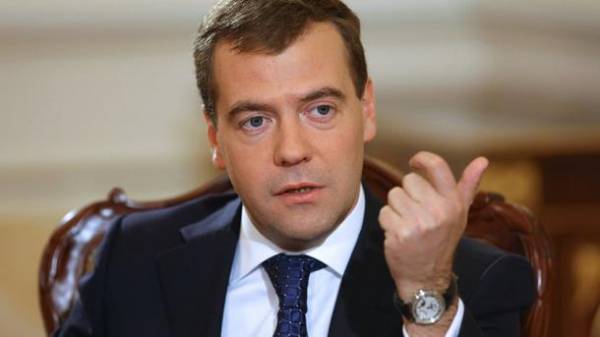 Prime Minister Dmitry Medvedev said that Belarus, requiring to reduce the price of Russian gas, "no one holds" in the Eurasian economic Union. This is Medvedev said at a meeting of the Eurasian intergovernmental Council in Bishkek.
"If this subject was discussed, I will say two words about the gas. Let's get straight, plain English: if some countries present here, were not included in the composition of our Union or, imagine, seceded from the Union, they would buy the gas at European prices – about $ 200 per thousand cubic meters. That's all," – said Medvedev.
"And don't need to prove anything, to practice calculations. It would have been significantly more expensive. This should be remembered when decisions are made that block or slow down our integration. In the end, force here nobody holds. We all understand this, we voluntarily created", – he stressed.
In turn, Prime Minister of Belarus Andrei Kobyakov has criticized the implementation of integration processes in the Eurasian economic Union.
"We set the task to implement the fundamental freedom of movement of goods, services, capital and labour, which is the basis of our economic Union. Have to admit that there are all new obstacles and barriers," said Kobyakov.
"Well, let it be until the difference in gas prices. We have agreed at the signing of the Treaty on the Eurasian economic Union that it will be gradually eliminated by 2025. But why this difference is so dramatically increasing – not 1%, not 5% or even 10%? And the difference in prices between Belarus and the Russian Federation increased from 38% at the beginning of 2014 up to 110% in 2016. Why, after the establishment of the EEU is the gradual reduction of the difference was almost three times higher? What is the free movement of goods, services, capital and labour can there be?", he said.
While Kobyakov stressed that the Russian partners are well aware that 96% of electricity in Belarus is produced from Russian natural gas.
"In this situation, you can compete in the common market? Belarus agrees to move forward, but we are not going to pretend that we are moving forward," he said.
As reported, the oil and gas dispute between Russia and Belarus lasts from the beginning of 2016, when Minsk said about the unfairness of prices for Russian gas and unilaterally started to pay for it at a lower price.
Russia in turn announced a reduction of duty-free oil supplies to Belarus, linking it with both the underpayment for gas and short supply of petroleum products in the Russian Federation.
In October last year, the parties, without going into detail, announced about achieving compromise. However, the dispute remains open until now.
Comments
comments