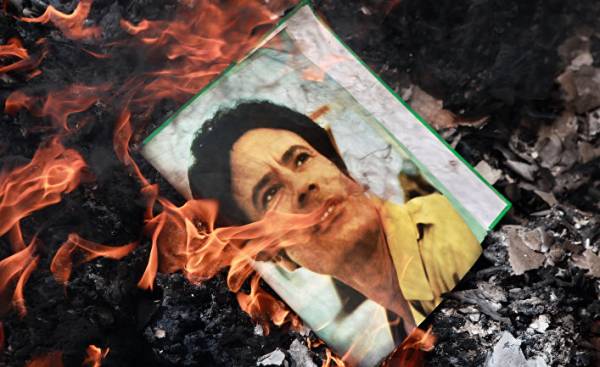 The Italian newspaper reports a message indicating that Russia intends to usurp the funds of Libya, stolen by the late leader Muammar Gaddafi, suggesting shelter to his son Saif al-Islam. However, he refused the Russian proposal.
In his report, the Italian newspaper Corriere della Sera confirmed that recently the President of Russia Vladimir Putin offered asylum to Saif al-Islam, the son of the late Libyan leader, Gaddafi Muhamarra. However, he rejected this proposal, expressing their distrust of any political leader.
The report also says about Safiya Farkas, the mother of Saif al-Islam, which on the contrary has expressed consent to such conditions. Then she went to the house, which is now forced to live with her son, in order to convince him to change his mind. In turn, Saif al-Islam, once again rejected the invitation, arguing that fears about the looting of their property. It is noted that Saif al-Islam fears the confiscation of his property by the Russian side in case of granting him political asylum. At the same time, Russia seeks to increase its influence in Libya. Don't forget that Saif al-Islam tries to make a deal with the "Zintan Brigade", which took him into custody. She is also applying for a portion of his wealth in exchange for the release and permission to leave Libya.
Family funds
The publication confirmed that Russia has information that the money of his father and the family of Saif al-Islam. These funds remain frozen abroad. This information has been revealed during recent visits close Maummar Gaddafi in Moscow. However, due to the extreme secrecy there is no evidence of this information. In the case of confirmation of information relating to Saif al-Islam, all this would be considered opportunistic step of Russia to implement its expansionist plans and objectives it has set in recent months. Moscow seeks to increase its influence on the Libyan coast of the Mediterranean sea in the light of the complete lack of competition from America and Europe.
Retreat
In the early stages, the Kremlin has appealed to the Caliph Haftarot Belkacem in order to return to the Libyan "arena". This was signed several agreements on oil and investment. At the same time, Moscow is committed to holding serious negotiations with the militia in the Libyan city of AZ-Zintan for the release of Saif al-Islam. Also in the ranks of the militia there was a serious split in view of the intransigence of opinions regarding the fate of Saif al-Islam: whether to support it or not. According to one of the leaders of the battalion settled in ez-Zidane, "Saif al-Islam continues to refuse to leave the city for any reason, because here he feels safe more than anywhere else. At the same time, the international warrant for his arrest are still valid in view of the fact that Saif al-Islam committed crimes against the civilian population".
Comments
comments