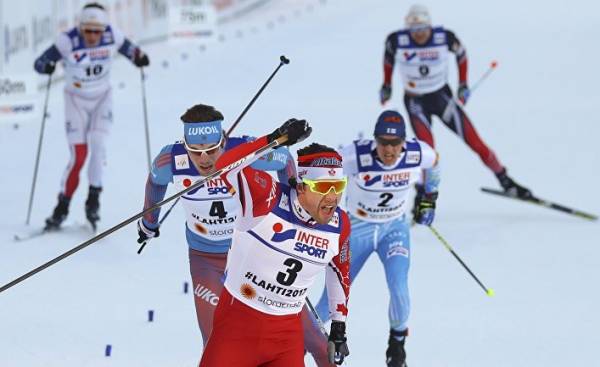 As an athlete he is already a hero, and this of course makes it very popular.
It is the opinion of Iver B. Neumann (Iver B. Neumann), Professor of international relations and a fellow of the Norwegian foreign policy Institute NUPI, about the commotion caused by Sergei Ustyugov yesterday.
In the race for 50 kilometers yesterday Ustyugov won the "silver". But when he appeared at a press conference after the race, medals on it was not.
This was done in support of suspended colleagues: Alexander passenger cars, Alexey Petukhov, Maxim Vylegzhanin and Yevgeny Belov.
"Each medal is one of the guys. I myself don't need them. It is important for those who were disqualified and for sport in General. Half the world against us. I'm done talking about this," said Ustyugov reporters.
Disqualified teammates
The reason that colleagues in December was suspended from participation in the competition, was the report of McLaren.
It argues that over a thousand Russian athletes were involved in state-sponsored doping scandal, in particular, they allegedly tampered with a urine sample.
Russian, however, stand on his own, and a researcher at NUPI Neumann believes that the statements Ustyugov perfectly characterize the way Russia perceives the world.
"They think that doping is used by all"
The Professor describes Russia as a country, considering that it was surrounded by enemies.
So Russians don't much respect the decision of the international anti-doping organizations from which they suffer.
The aforementioned skiers in December was disqualified because McLaren report, and the evidence that suggests manipulation of the urine samples.
"The Russians think they all use drugs. Everything that touches them, is perceived as injustice. And when such a large-scale program of the use of doping is the state, respond with a simple shrug," says Neuman.
The rise of nationalism
Scientist argues that such nationalist culture is spreading increasingly, to a large extent it was the result of the political and economic situation, and now is experiencing a real boom.
In 1990-e years Russia was in a completely different situation.
"After the Soviet collapse, Russians thought that they might have something to learn from other countries. But in the last five years, nationalism has again flourished," reports Neumann.
Championships
In this regard, a very important Championships, which are held in Russia. In 2014 Russian Olympics in Sochi, and two years later the world hockey championship.
Now approaching the world Cup in 2018.
"These Championships should be the arena of peaceful competition, but in Russia, everything is turned over to show that one nation is better than another. It's a little nerve wracking," — says Neuman.
On the question, except in Norway otherwise, he says the following:
"Of course. All Nations think that they are the center of the universe. But what is happening in Russia is, in particular, the fact that more and more people believe that Russian — the chosen people", says Iver B. Neumann.
Comments
comments